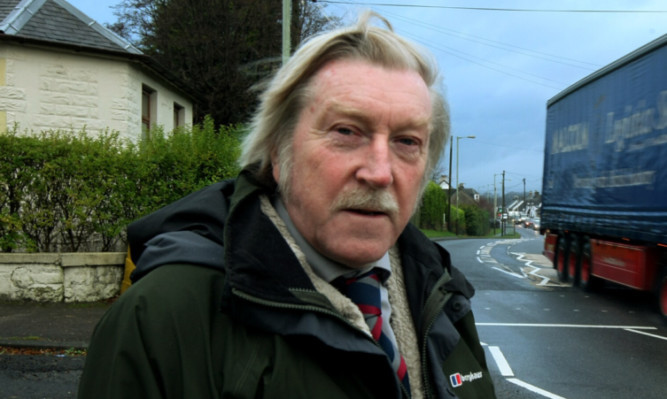 A councillor wants action to prevent the "industrialisation" of the Ochil Hills through widespread development.
A proliferation of renewable energy developments has angered Kinross-shire councillor Mike Barnacle.
He wants authorities to work together to explore the possibility of the area being granted Regional Park Status.
Mr Barnacle believes this might be more successful than the current Special Landscape Area designation in stopping the spread of wind and solar developments.
He has written to Perth and Kinross Council's development quality manager Nick Brian and Peter Marshall, planning and sustainable development, asking them to investigate this course of action.
"At the development management committee on February 17, following a close vote on the denial of opportunity for Friends of the Ochils to comment further and address the committee on additional information … a major photo voltaic solar farm near Path of Condie and Glenfarg was granted approval," says Mr Barnacle in his letter.
"I was disappointed that the further opportunity to address the committee was denied but even more dismayed at the report on Landscape Supplementary Guidance enclosed.
"To state that the Ochil Hills have not been substantially affected by windfarms and masts on hill tops is clearly inaccurate.
"There is also clearly no presumption against further wind turbines or other renewable energy developments so one has to ask what does a Special Landscape Area designation give in protection? I would suggest none."
Mr Barnacle said a 2004 capacity study recommended only one windfarm be "carefully sited" in the Ochils.
"We now have three, at Burnfoot, Greenknowes and Lochelbank, with other wind monitoring masts appearing subsequently in advance of potential further turbine development," he noted.
"I repeat, more stridently than ever, it is time to call a halt on further industrialisation from windfarm developments in the Ochil Hills and if Special Landscape Areas clearly do not ensure landscape protection, I reiterate my call for Regional Park Status for the Ochil Hills to be explored by Perth and Kinross Council with neighbouring authorities."
Scotland's three regional parks Pentland Hills, Lomond Hills and Clyde Muirshiel are popular for outdoor recreation and are easy to reach from major urban areas.