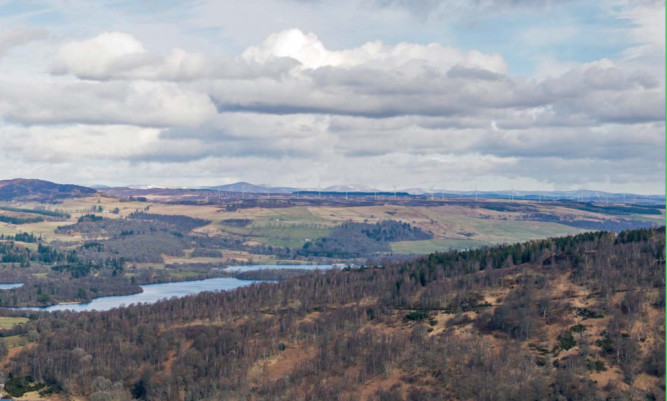 A public inquiry has been called to decide the fate of a giant Perthshire windfarm.
The highly controversial Dulater Hill project involves the installation of 17 turbines each twice the height of the Scott Monument across an area of land the size of 16 football pitches.
Developers say the scheme, north of the A923 near Butterstone, will dramatically slash carbon emissions and help reach crucial green energy targets.
However, the plan has met opposition from residents and organisations, including community councils, who argue the scheme could hit tourism and the local economy. They fear that there is already an overabundance of turbines in the area with more than 100 already in place and a further 161 proposed.
However, supporters say it will create construction jobs and boost the community by £285,000 each year.
Scottish ministers have called for a public inquiry to determine the application after a formal objection from Perth and Kinross Council.
Councillors refused to back the project, claiming it would lead to "unacceptable adverse visual impacts" which would "erode the experience from popular viewpoints within the River Tay National Scenic Area."
The inquiry, which will be held locally later this year, will give Scottish ministers the chance to quiz Ecotricity about the scheme. The council and other bodies, including Scottish Natural Heritage and community councils, will also get their say.
The department for planning and environmental appeals is expected to rule on the scheme by October.
A spokesman for the Lunan Valley Protection Group, which was set up to fight the development, said preliminary talks would be held to discuss what issues need to be investigated at the full inquiry.
"For example, we have always argued that the impact of the construction traffic on the A923 will have major social, economic and safety risks for the local community," he said. "Whether or not information about that subject will be allowed, we will have to wait to see."
An Ecotricity spokesman said last night: "If approved, the Dulater Hill wind park would help us take another big step in reducing the national carbon footprint, creating enough clean energy to power nearly 30,000 homes and saving more than 50,000 tonnes of CO2 annually.
"We've done extensive environmental and ecological assessments as part of the planning process and we're very confident the site is an appropriate place for a wind park of this size."