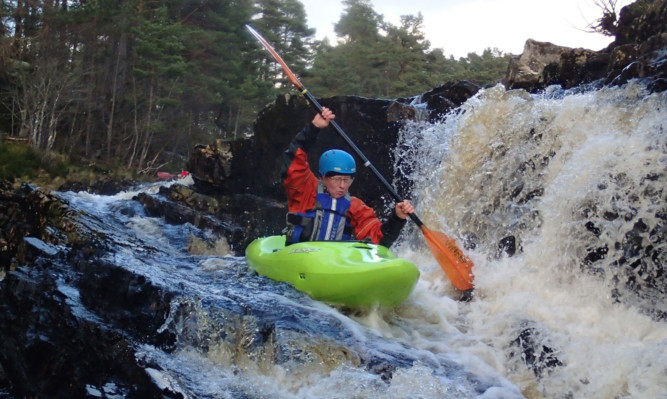 At first glance a case fit for the Famous Five, the mystery of the empty kayak has been 'solved' by a group of friends from Dublin.
The abandoned craft was spotted being tossed around the fast-flowing waters of the River Braan at the Hermitage woodlands in Perthshire on Thursday afternoon.
With no one in sight, its presence left water rescue experts faced with a tricky investigation as they attempted to discover whether its owner was lost in the rapids.
Scottish Fire and Rescue crews did not discover anyone in difficulty, and eventually described the incident as a "well-intentioned" false alarm.
After spotting the story in The Courier, a group of water-sports enthusiasts came forward to claim the kayak, bringing the mystery to an end.
The boat was separated from its paddler 61-year-old John Stanley from Dublin the previous day after he got into difficulties. Friend James O'Keeff revealed that John emerged "safe and unhurt" from the rapid known by paddlers as 'the Splitter'.
"John and I had travelled from Dublin to Glenmore Lodge, the national outdoor centre in the Cairngorms, for a five-day kayaking tour of the grand rivers of Scotland," he said.
"We were part of a group of four on the river that day joined by Keith Miller from Norwich and respected mountain and river guide Iain Murray, who was a great ambassador for Scottish boating.
"John got separated from his kayak. Though we did locate it, we thought it was in too dangerous a position to attempt to retrieve it.
"He and I thoroughly enjoyed our week in Scotland and are now safely back in Dublin, tired and happy."
Perthshire is renowned for the quality and challenge of its white water.
The rapids on the Tay at Grandtully in Highland Perthshire are among the best known, with competitons and regular kayaking and rafting outings.
Equally challenging is the River Braan at the Hermitage, with the stretch between the Rumbling Bridge and the Black Linn waterfall a fine prospect for hardy paddlers like the visiting Dubliners.