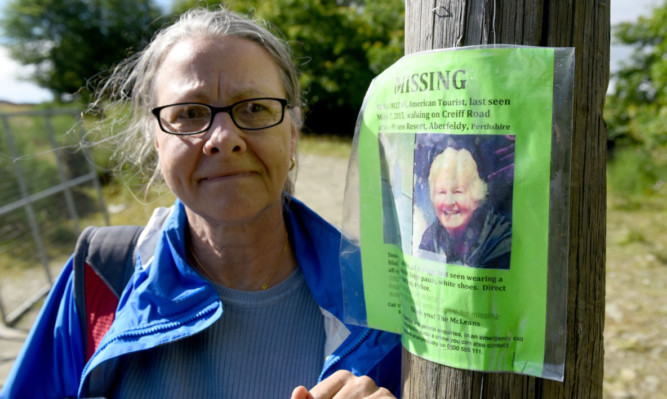 Police have defended their search operations after it took a volunteer search team to find the body of an American tourist almost three months after she went missing.
Official searches were scaled down after teams spent weeks scouring the areas around Aberfeldy after Susan McLean disappeared on May 17.
Remains which police have now confirmed were Susan's were finally found at the weekend by a volunteer team organised by her friend Lorna VanderZanden.
Search maps seen by The Courier show that officers searching the Loch Hoil trail passed within feet of the 61-year-old but crucially did not enter past the start of the tree line.
Lorna, 61, said she was astounded that it was volunteers rather than the police who had made the discovery.
She said: "I am totally astonished that I could come here and find Susan McLean in four weeks with eight volunteers on two Saturdays when Police Scotland could not find her in three months.
"I was told repeatedly that police and cadaver dogs had searched the entire area from Moness to Gatehouse Nursery to Loch Hoil trail to the Birks of Aberfeldy.
"We found her a couple hundred yards north of Loch Hoil trail, 25ft from the edge of a section of forest, half a mile west of Crieff Road.
"How could police and cadaver dogs miss her when she was so close to the secondary trail just north of Loch Hoil trail?"No suspicious circumstancesThe body was formally identified on Tuesday.
A spokesman said: "Police Scotland can confirm that human remains recovered from woodland in Aberfeldy on Saturday August 15, have been formally identified as 61-year-old Susan McLean from Pennsylvania, USA.
"There are no suspicious circumstances and a report has been submitted to the procurator fiscal."
Earlier, Superintendent Graeme Murdoch, of Police Scotland, said officers had searched 9 sq km of open ground and 45km of trails and roads, and had planned further searches in the coming weeks.
However, he admitted that the areas they had intended on covering did not include where the body was found.
"Our searches had not concluded," he said. "They had for a period of time but on July 28 the senior investigating officer and the police search adviser met and agreed some further extended areas of search, which were due to be completed in the next couple of weeks.
"However, I will be transparent and say that the area where the body was found would not have been one of the areas we intended to search."
He added that police had no reason to believe Susan had left the main forest trail.
"The remains were well off the track, through the trees," he said. "Adam Weir (who made the discovery) indicated that he had to break branches to get through to where it was.
"Without a reason to believe that any person would have battled their own way into the trees, our priority was to search the open areas the areas assessed by the search advisers whereby someone who was walking or may have met with an accident was most likely to be.
"If there were any shortcomings or failings in terms of our response, we would be transparent about that."