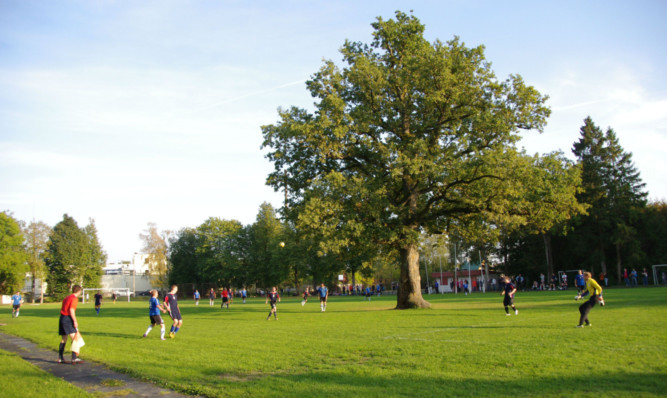 A mighty oak in the middle of an Estonian football pitch has been crowned Europe's tree of the year beating competition from a spectacular Scots pine in Perthshire.
The winner of the hotly contested battle of the bark has been revealed by judges, dashing hopes of a homegrown victory.
First place went to a seemingly indestructible oak tree in Orissaare, a coastal resort in western Estonia, which became part of a playing field after two Soviet tractors were unable to pull it over in 1951.
Since then, generations of footballers have adapted to its presence in the middle of the pitch, learning to skilfully pass the ball around its massive trunk.
The oak was nominated for the European Tree of the Year 2015 competition by the Estonian Chamber of Arborists and received nearly 60,000 votes.
Scotland's entry was the Lady's Tree at the Scottish Wildlife Trust's Loch of Lowes Visitor Centre and Wildlife Reserve, near Dunkeld.
The pine is the summer home of Europe's oldest breeding osprey, known affectionately as Lady and was the winner of the Scottish Tree of the Year contest organised by the Woodland Trust Scotland.
It came ninth in the Europe-wide contest, with a total of 4,193 votes.
Nottingham's Major Oak, which was reputedly used by Robin Hood as a hiding place, came sixth, while the Lonely Tree at Llanfyllin in Wales was placed 10th.
Carol Evans, director of the Woodland Trust Scotland, said last night: "Even though we finished ninth we've doubled Scotland's vote compared to 2014 and finished second in the Six Nations, a feat our rugby team would be very proud of."
Johnny Hughes, chief executive of the Scottish Wildlife Trust, said: "The famous Scots pine at the Lowes Visitor Centre did not manage to win the top prize but through this competition, we have managed to tell the success story of osprey conservation."
The trust is now eagerly waiting to see if Lady returns to the tree for a 25th year.