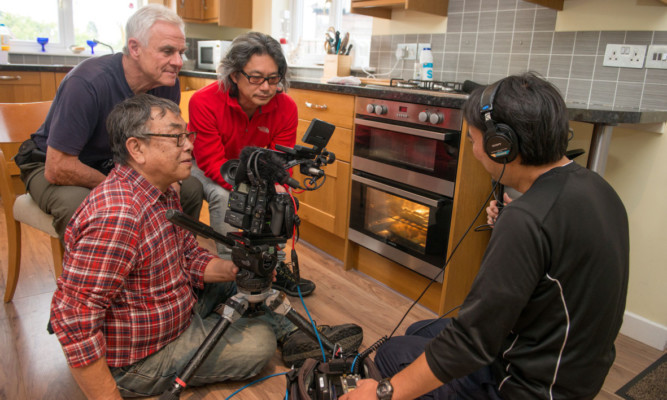 Perthshire is to feature in a documentary to be broadcast on the Japanese equivalent of the BBC.
Sekai de Ichiban Utsukushii Toki, which means "the most beautiful time in the world", traces the story of heather and its uses from decorating our homes to its use in the whisky industry.
It will be broadcast on NHK in September.
A TV crew from Japan travelled to Scotland last month to film the programme, stopping at locations including the Glenturret Distillery, Heather Hills honey farm and the Highland Heathers and Plant Centre in Comrie. They also filmed in Edinburgh and Orkney.
The crew approached the plant's story from several angles, including its use in honey and beer making, its use in thatched roofs, its use in cooking and the fact that over millennia it metamorphoses into peat which is used for making certain types of whisky.
They also documented the tradition of a bride and groom jumping over a heather broom for good luck in their married life.
Director Nao Kubota was joined in Scotland by cameraman Koji Yoshida and soundman Kazumi Takahashi.
He said: "This is my first time in Scotland. My favourite place in Perthshire was Loch Turret.
"I found its beauty absolutely stunning, with the lovely heather on the hillside. We think we might even have discovered a new variety of heather.
"Everyone we've met has been amazingly friendly. The scenery is beautiful just as I had imagined it would be. It's also pretty cold.
"Country people in Scotland are very similar to country people in Japan very warm and friendly."
He said prior to filming the documentary he had never tried heather honey.
"I don't often eat honey," he said. "But I particularly like the heather honey which contains whisky. I knew nothing whatsoever about heather before this project, but now I pride myself on being something of an expert."