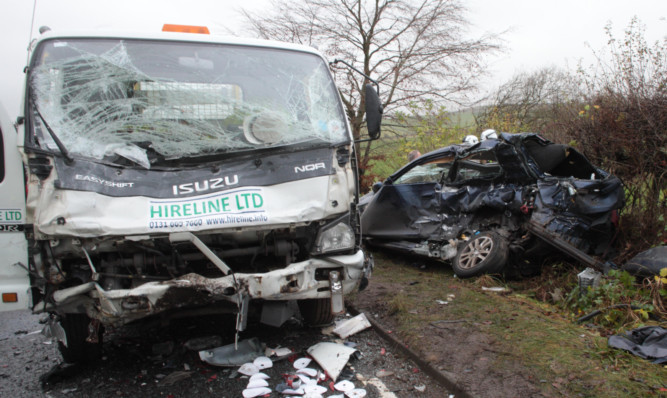 A "defective" rear tyre rather than driver error may have led to the crash that killed a Tayport father-of-one last year.
Owen Bissett, 25, died in Ninewells Hospital almost a week after the horrific smash on the A85 Perth to Crieff road on November 20 2014.
He had been driving to meet a work colleague in Crieff when he lost control of his car, which was travelling on the wrong side of the road, and smashed side-on into a lorry.
Mr Bissett, who worked as an assessor for MGT Training, suffered head and brain injuries.
He did not regain consciousness and was pronounced dead six days later. His kidneys were donated to two women.
A fatal accident inquiry has concluded the cause of Owen's loss of control was "unknown" but suggested defects on one rear tyre may have been responsible for the accident rather than driver error.
In Sheriff Christopher Shead's determination it was revealed that PC Frank Donald, who attended the scene at the time, felt the condition of one tyre may have caused Mr Bissett's car to veer onto the wrong side of the road.
It said: "In summary it could not be ascertained what had caused the deceased to lose control of his car although some possibilities were considered.
"In the opinion of the officer, the condition of the tyre may have been a contributing factor in the deceased losing control of his car."
Despite that, Sheriff Shead said there was no definitive way of knowing what caused the crash.
No defects were later found on the lorry or its trailer and the solicitor for the driver said that the court may be prepared to find the cause of the accident was error on Owen's part.
But Sheriff Shead said there was no evidence to "establish was had caused the car to be on the wrong side of the road at the critical time".
He added that there was also "no basis" for criticising the actions of the lorry driver either.
Mr Bisset is survived his fiance Kelly Grossett and his young daughter Esm.