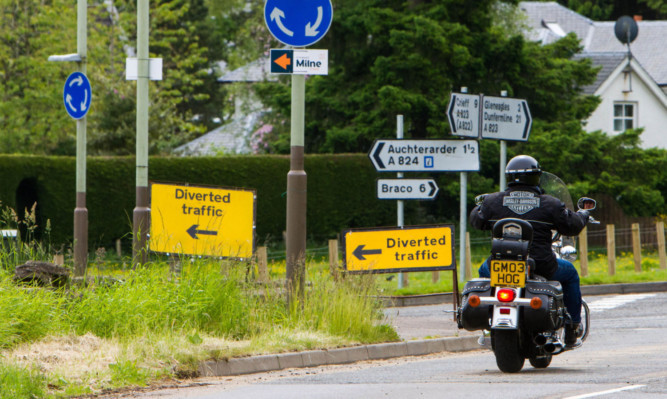 Assurances have been given that there will not be a "blanket closure" of roads in the area surrounding T in the Park.
Despite scores of concerned residents and businesses in Strathallan expressing alarm at the possibility of a lack of access during the festival, both Perth and Kinross Council and festival organisers, DF Concerts have moved to try to allay such worries.
It was confirmed on Wednesday that not all surrounding roads will be closed but the local authority is keeping its options open until it obtains DF Concert's traffic management plan.
A council spokesman told The Courier the "majority" of approved temporary traffic restriction orders relate to speed restrictions and not road closures.
"None of these restriction orders will come into force unless a sign is erected indicating to motorists what the restriction is and where it applies," she said.
"Applying for these orders allows both the council and Police Scotland to create contingency plans for a number of eventualities. However, not all of them will be required.
"The restrictions are to ensure that both the council and police can react quickly to any incident that may occur on the roads."
Most of the roads concerned should see temporary speed restrictions of 30mph applied during T in the Park, which will run from July 10-12.
But Liz Smith, MSP for Mid Scotland and Fife, hit out at what she claims is a "total lack of liaison" between the council and DF Concerts on the matter.
She wants to know why the traffic management plan for the festival is still not available. "Local residents and businesses have been left in the dark about what is really happening," she said.
"This is simply not good enough when it comes to the assistance required to help the event run smoothly and allay the concerns of local people who have had to put up with so little transparency over a long period of time. This lack of clarity just adds to the uncertainty."
She added: "I have written to the council leader, Councillor Ian Miller, to ask that the local traffic management plan be published immediately and for an assurance to be provided to all local businesses and residents that they are not going to be in lock down."
A spokesperson for DF Concerts said: "The majority of the planned restrictions during the event relate to speed restrictions, one-way systems and local- access-only road closures.
"Our traffic multi-agency group has devised a solid and thoroughly considered plan, which we have every confidence in.
"We are in the process of contacting local residents who will be most affected by temporary traffic restrictions and details regarding traffic management for the event will be shared with the broader community next week."