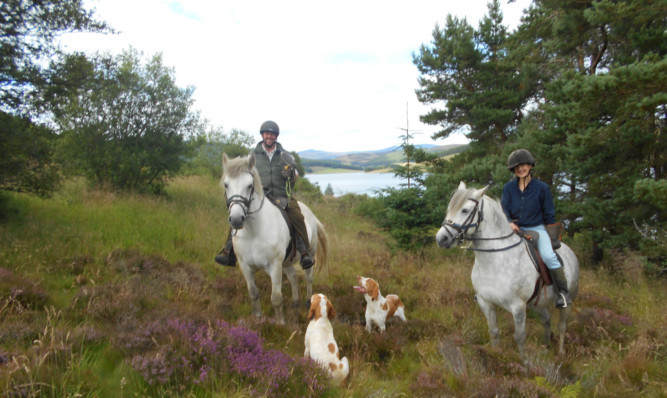 United by a mutual love of the countryside, Stewart Miller and Jo Chapman Campbell, from Perthshire, are embarking on an unusual and romantic expedition across the wilds of Scotland.
Anyone spotting the party as it makes its way from Glencoe to Glenisla is unlikely to forget the sight they will be travelling on ponies, accompanied by two dogs and a peregrine falcon.
The 130-mile trip should take around 12 days to complete but the weather and a possible need to take lengthy detours will all play a factor.
Mr Miller, from Rattray, and Dr Chapman Campbell, from Kilry, met while carrying out wildlife surveys to protect habitats in the Angus glens from what they see as the proliferation of windfarms.
"I am an art historian, writer, artist and musician and like Stewart love Scotland's wild and precious landscapes," said Dr Chapman Campbell, 60, who teaches part-time at Edinburgh University.
"We are both keen horse people and this ride is something we have both wanted to do for a long time.
"It is a wonderful opportunity not just for us to bring attention to as many people as possible the value of the Scottish mountains and their wildlife."
Mr Miller has worked with raptors for more than 30 years and is deeply involved in the conservation of birds of prey across Scotland in terms of rescue and rehabilitation. The falcon accompanying them is a bird that was shot and the journey is part of its retraining before being released in the wild.
Mr Miller is also co-founder of a project in Siberia to protect the imperial eagle and has worked there and in China. He also recently travelled with the eagle hunters in Outer Mongolia to exchange knowledge and skills in training eagles.
On September 22, the day before they set off, Mr Miller will give a talk, the Eagle Hunter of Mongolia, in Kilry Hall at 7pm, and he will have a steppe eagle with him.
The money raised from the trek will be divided equally between the charity, International Raptor Research and Conservation, based in Perthshire, and Horseback UK, Aberdeenshire, which works with injured or ill veterans.
To support the effort, cheques payable to International Raptor Research and Conservation can be sent to the charity at ParkHill House, Rattray, PH10 7HS, or go to the justgiving and access International Raptor Research and Conservation.