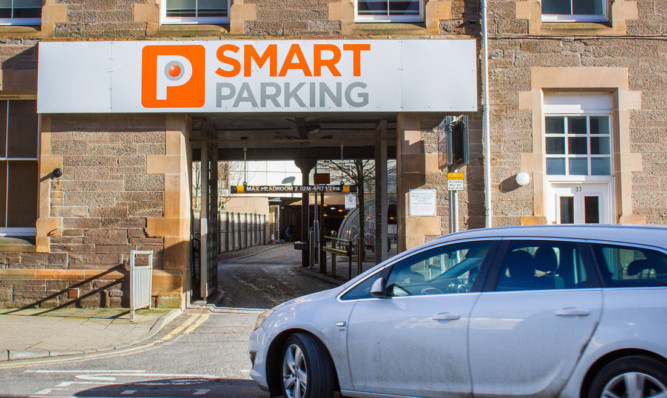 A private parking firm has been accused of "playing games" after slapping a "fine" on a motorist who confused a letter with a number.
John West drove his Ford Fiesta into the Kinnoull Street multi-storey car park on February 4 shortly after the new meter system came into force.
The Pitlochry resident, who has an incurable lung condition, struggled to find the pay point and had to return to his car to check his registration in order to comply with the altered system.
The flustered motorist then mistakenly entered a zero instead of the letter O when inputting the information into the machine, which is operated by Smart Parking.
The 64-year-old said: "They didn't advertise that they'd changed the parking system. They've just taken out all the machines and put new ones in the corridor so you had to find them first.
"With the new machines you have to put in your registration before putting your money in.
"There was a queue of people there and three quarters of them didn't know what their registration was I didn't know what mine was so we all had to go back to our cars and come back."
He added that the firm's staff obviously knew it was an innocent error as they were able to trace him without any difficulty.
"I think they are being very pedantic," he said.
"It's just a load of excuses. They have the picture on the paperwork and you can see it was an O or a zero surely they must look at them?
"It's funny that they got my details so quickly in order to send me the bill. They wouldn't have been able to get my details through the DVLA if they gave them the wrong registration.
"They (Smart Parking) are just playing games it's their fault, not mine. There was only one car with that registration in there that day."
After being contacted by The Courier a spokesman for Smart Parking, which had initially denied receiving Mr West's appeal, said the company would cancel his ticket.
"The pay and display system at the Kinnoull Street multi-storey car park is designed to ensure that all motorists have fair and equal access to car parking," said the spokesman.
"The car park has 29 signs clearly explaining the system, which includes entering your car registration number correctly into a ticketing machine.
"The car park has a large number of visitors and the overwhelming majority of motorists buy tickets without any problem.
"In the case of Mr West, he appealed so we investigated his case.
"We found that Mr West had incorrectly entered his car registration number when purchasing a ticket and so was rightly issued a charge.
"However, as an act of good will, we have now cancelled his charge."