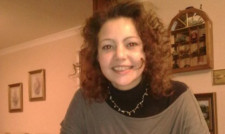 A Kinross woman who died a day after she was allegedly attacked by her Palestinian lover told pals she feared for her life.
Julie Pearson, 38, fell ill and collapsed hours after the suspected beating by Amjab Hatib, 31, in the port town of Eilat in Israel last month.
It is alleged Julie was punched and kicked several times in front of others. The next day she felt ill and later collapsed and died.
One friend, who tried to protect her on November 26, claimed: "I was the only one who defended her. People were watching and laughing.
"After he hit her, she told me, 'I'm afraid. Do not leave me'."
The pal said she called in cops after the alleged attack but Julie was too scared to go for hospital treatment because she did not have a visa.
Hatib, from East Jerusalem, was jailed for a previous assault on Julie and appeared in court last week over her death. He was freed on bail pending an autopsy.
When Julie's body was returned to Scotland last week, relatives were said to be horrified by the amount of bruising on her.
Aunt Deborah Pearson said: "She was covered head to toe in bruises. The full right side of her face was bruised. She had fingerprint marks round her wrist."