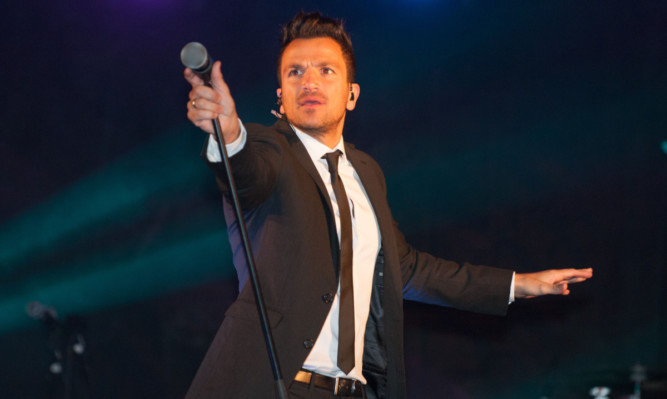 Perth and Kinross Council spent more than £100,000 responding to Freedom of Information (FOI) requests last year.
The number of FOI requests has risen by more than 10% since last year, with 1,385 being made in 2014.
A total of 28 requests were refused completely or in part because of the costs involved in providing the information.
The costs for each of these refused requests were estimated at between £832 to £12,377.
Last year The Courier revealed that council bosses refused to declare how much taxpayers' cash was spent bringing Peter Andre to Perth for the Christmas lights extravaganza.
The local authority said details of the star's performance were being withheld for fear of "breach of confidence".
A year previously, the council fully complied with a similar Freedom of Information request and revealed it had paid Towie star Mark Wright £7,000 for his brief appearance at the 2013 ceremony.
The payment was slammed by critics as a "scandalous" waste of money.
Last year the council completed 46 requests to review its decisions, with 31 reviews upholding the original decision and 15 overturning it.
The total cost to the council of responding to FOI requests in 2014 is estimated at £105,648.
The convener of Perth and Kinross Council's scrutiny committee, Alexander Stewart, said: "The general public remains the largest group of applicants with media organisations and journalists being the second largest source of requests. The percentage of requests from this group shows a marked increase in 2014."
The council has not, to date, charged for FOI requests but stated it still reserves the right to do so.
The local authority would have been able to charge on approximately 119 occasions and the total amount chargeable would have been around £550.
The actual cost of responding to these particular requests is estimated at £17,405.
The cost of raising 119 invoices and recovering the charges would be approximately £2,856.
The figures for the 12 months to September 2014 ranks the council in seventh place out of 32 Scottish local authorities in terms of the number of requests received.
Despite the increase in the number of requests 96.5% received responses within the statutory 20 working days timescale, above the council's target of 95%.
Mr Stewart added: "It is very good news that the council is continuing to maintain a good response rate despite the rising number of requests being made.
"I would like to take this opportunity to congratulate all staff involved in gathering the information needed to respond to FOI requests for their excellent performance.
"Continuing to respond to FOIs in this very diligent manner emphasises Perth and Kinross Council's commitment to open and transparent working."