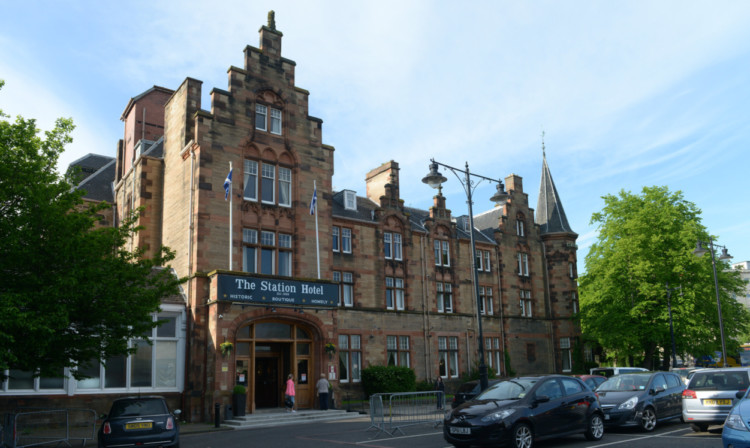 It has emerged school pupils drank until they collapsed ill or unconscious after staging an unofficial prom at a Perth Hotel.
Police officers said the event had descended into an "out-of-control mess" as the alcohol continued to flow.
It was not until a 17-year-old boy began turning blue in a hotel corridor that concerned friends finally called medical aid to the bash at Perth's Station Quality Hotel.
As a direct consequence, the hotel once home to Prime Minister Margaret Thatcher during Conservative Party conferences had its licence suspended for 14 days.
Bosses, including new manager Daniel Stewart, have also been told they will have to operate under stringent new conditions after accepting a string of failings.
The hotel's function rooms had been booked out by almost 250 Kinross High pupils who were staging their annual Teen Ball an event not sanctioned by the school but known to the school authorities.
Perth and Kinross Council said the ball was not an official school event being organised instead by sixth year pupils as a "community event" and declined to be drawn on whether any action had been taken.
Many of the youngsters aged 16 or 17 had apparently consumed significant quantities of alcohol before arriving at the hotel on January 25.
Staff were adamant bar sales had not been responsible for the debacle which followed, as a number of the youngsters were said to have also smuggled alcohol into the event.
It was, however, accepted that systems for checking ages had failed, that staff had served underage patrons and that alcohol had been served to people who were clearly intoxicated.
When officers arrived at the hotel they found numerous young people heavily under the influence of alcohol both within the hotel and its grounds.
One 17-year-old boy was found slumped unconscious in a seat at the bar, having vomited upon himself several times.
Others were described as "staggering", while officers observed some youngsters filling glasses from bottles of spirits secreted in handbags.
"A senior officer described the function as an out-of-control mess and said it was clear that staff were completely out of their depth," said Police Scotland's Bruce Kerr.
"No matter that there may have been an element of 'pre-loading', he was clear that the hotel had been complicit in selling alcohol to pupils who were both underage and heavily intoxicated.
"The event was clearly out of control and there was a realistic possibility of further young people becoming ill."
With the decision having been taken to end the function early, it took 12 police officers over an hour to disperse the youngsters, who became aggressive and abusive.
However, drivers reported the youngsters they took home were heavily intoxicated, with one commenting they were "absolutely minging with drink and puking all over my bus".
Police officers attended at Kinross High the following week to interview a number of pupils including the organisers about the event.
Solicitor Paul Trodden told members of Perth and Kinross Council's Licensing Board: "These are well-run premises but on this occasion there were management failings and they are accepted.
"I would ask you to accept that this was an aberration, albeit a serious one."
Hotel owner Mahesh Kotecha said the incident was a "one-off" that would never be repeated, adding staff training and hotel practices had been overhauled.
Mr Kotecha, a former journalist and internet entrepreneur, snapped up the hotel for his company Supportico Ltd in 2011 and has invested considerable sums to reinvent it as a boutique hotel.
The hotel now hopes to put the incident behind it but will do so while abiding to stringent conditions regarding staff training, stewarding, notifying police of functions and an outright ban on events where the majority of those attending are aged under 20.