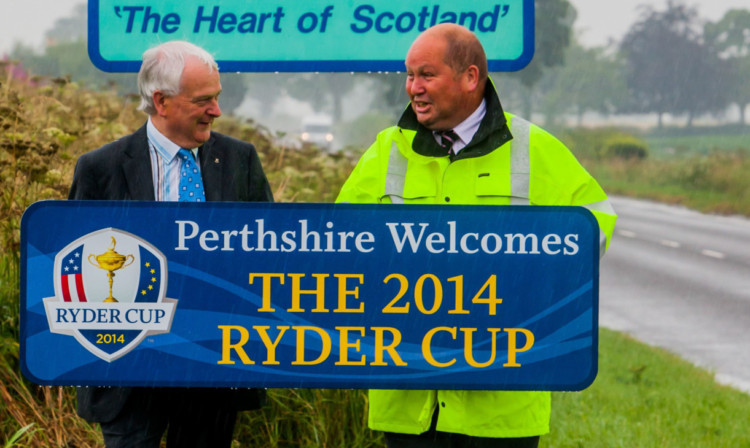 Thieves have made off with a Ryder Cup sign unveiled by the leader of Perth and Kinross Council six weeks ago.
Police launched a hunt for the missing 5x2ft metal plate after local authority staff raised the alarm. It was taken from posts holding another sign welcoming motorists on the A94 to Perth and Kinross.
The Scottish Government's transport minister described the unveiling of the first of 18 signs in the region as "exciting".
Council leader Ian Miller said the signs are "another step to welcoming this prestigious sporting event to Gleneagles".
A spokesman for Perth and Kinross Council confirmed that the sign had been stolen.
He said: "We are grateful to The Courier for bringing this matter to our attention. We will be reporting the disappearance of the road sign to Police Scotland and would encourage anyone with information to contact police."
The signs are part of a drive to capitalise on the sporting event, which is expected to boost the economy by an estimated £100 million.
Around 45,000 spectators are expected at Gleneagles every day of the week-long tournament next September.
Organisers declined to comment on the theft of the sign, which they said "belongs to Perth and Kinross Council".
At the unveiling in July, Councillor Ian Miller said: "We are very excited about the prospect of the Ryder Cup being held at Gleneagles in 2014.
"By putting up these signs we are taking another step to welcoming this prestigious sporting event to the area and letting residents and visitors alike know the Ryder Cup is coming to Gleneagles next year."
Transport minister Keith Brown added: "It is exciting to see this sign being unveiled as the countdown continues towards the Ryder Cup next year."
Mr Brown's spokesman declined to comment, but a spokeswoman in the Scottish Government's justice department said they are "determined" to tackle an increase in metal theft.
"The issue, as highlighted by incidents such as this, can cause major problems for communities and major inconvenience for travellers as well as a range of other serious safety and cost issues," she added.
It is understood Perth and Kinross Council's roads department has a spare sign.
A spokesman said: "The sign will be replaced by Perth & Kinross Council."
A police spokesman said officers have begun a probe into the theft.
He said: "Tayside Division has been made aware that the sign is missing and will be carrying out enquiries into the circumstances. Anyone with information should contact 101 or speak to their local officer."