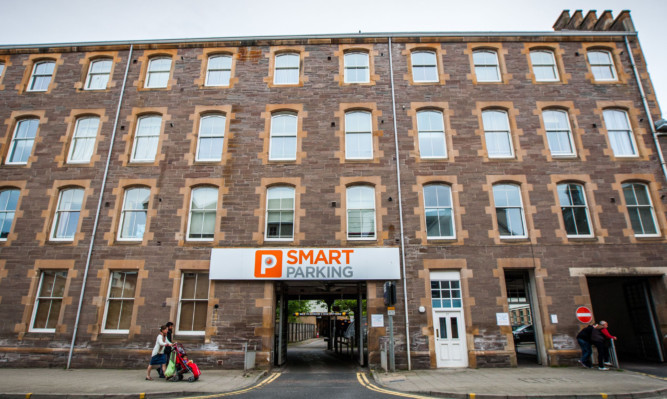 The man in charge of enforcing penalties for a nationwide car park chain has been jailed for an elaborate three-year scam that netted him tens of thousands of pounds.
David Edmeades pocketed customer payments while working as a senior member of management at Smart Parking's head office in Perth.
The 44-year-old secretly cancelled clients' parking penalties but pocketed the cash instead of refunding it. He targeted cases where the customer had paid their fine without making a complaint or appeal.
He was caught out when colleagues noticed a series of payments had been made directly to his personal bank account.
Edmeades appeared at Perth Sheriff Court, having previously admitted a charge of embezzling £45,000 between March 2011 and February 2014.
Sheriff Christopher Shead said there was a significant public interest in the case and jailed him for 18 months.
Depute fiscal Gavin Letford said the scam came to light in February last year when Edmeades took a long weekend off work. His colleague Gary Baird covered for him while he was away.
"Mr Baird had cause to look at a previous banking sheet when he noticed a refund of £140," Mr Letford said. "He thought this was strange as normal refunds could not be more than £90, as that was the highest fine issued.
"Mr Baird looked at other readings and noticed a similar pattern of discrepancies involving refunds made to the same card number."
The following Monday Mr Baird raised the alarm to the company's finance manager and handed over Edmeades' most recent banking sheets.
Later that day it was confirmed to Smart Parking that the bank card number was linked to a Halifax account in Edmeades' name.
The court heard that Edmeades, of Goosecroft, Forfar, admitted the scam when confronted by bosses the following day. He was suspended but returned 24 hours later for a disciplinary hearing.
"He again openly admitted he had put the money into his own bank account," Mr Letford said. "He said he had taken the money because his wife was ill and she had lost her job."
Edmeades was sacked on the spot at the end of the meeting. Police were called and found there were 324 refund transactions totalling £45,000.
Solicitor David Bell said his client was extremely remorseful and the case had caused depression and the collapse of his second marriage.
Mr Bell added: "He did not do this to fund some extravagant lifestyle. It's also important to note that no members of the public lost out financially as a result of his actions."
Edmeades was held in high regard by his bosses and was nominated for 2012's Parking Person of the Year crown at the annual British Parking Awards.
Smart Parking which has come under fire for its new payment system at Kinnoull Street in Perth declined to comment on the case.