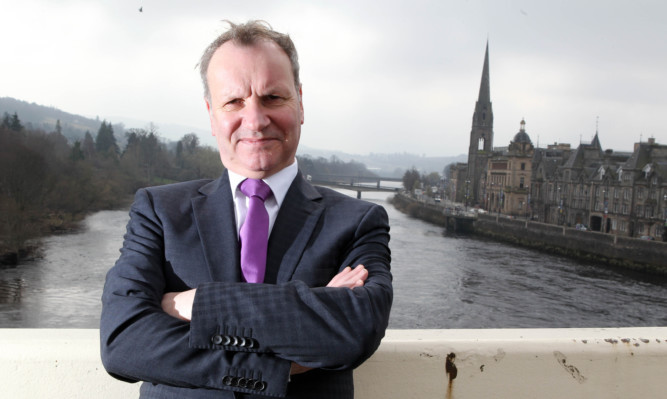 A pair of Perthshire politicians have distanced themselves from a pro-union group advocating tactical voting to defeat the SNP.
Labour's Perthshire South and Ochil MP, Gordon Banks, and Conservative candidate for Perth and North Perthshire, Alexander Stewart, both put clear water between themselves and Forward Together, which is backing the duo in May's General Election.
Aberfeldy-based Forward Together director Victor Clements said activists decided to make their voices heard after people kept asking them "who to vote for" to oust current SNP MP Pete Wishart.
The group, which he said is mainly made up of former Better Together campaigners, has now distributed a leaflet arguing for the positives of the UK.
The Lib Dem supporter and former candidate insisted his "conscience is fairly clear" as he encourages people to vote either Conservative or Labour, and claimed the group could lead to his party picking up more activists.
"We live in complex times and there is a constructive way of handling it or a destructive way of handling it," said Mr Clements.
"Our fear is that if you have the SNP in Westminster they will seek to be as destructive as possible."
However, Mr Stewart said: "They're not helping me out directly because I've not had much of a conversation with them.
He added: "I'm not actually involved with them in any way, shape or form."
Mr Banks said: "I just hope people will vote for me because I've been a good MP and they think I will be a good MP for the next five years as well."
Perth and North Perthshire MP Pete Wishart claimed Forward Together was doing the SNP "a favour" locally.
He said: "What we are finding on the doorstep is Labour supporters who are totally appalled by this behaviour, being asked to vote for the toxic Conservatives when they have spent most of their voting life trying to keep them out."
Perthshire South and Ochil SNP candidate Tasmina Ahmed-Sheikh added: "This is disastrous for Labour's election campaign in Ochil & South Perthshire being joined at the hip with the Tories in the referendum caused their support to plummet, and now it seems that it's going to continue at this election."