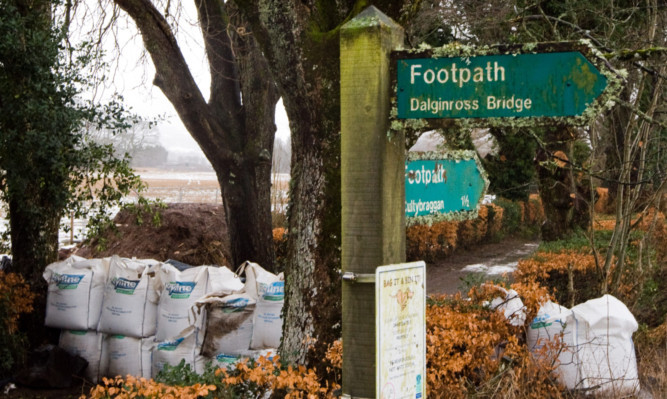 Residents of the flood-hit Perthshire village of Comrie could have less than 30 minutes to protect homes and evacuate their community if further disaster strikes.
A £1million flood defence scheme is being rushed into operation by Perth and Kinross Council following two horrendous floods in 2012.
Householders hope it will be the answer to their prayers, but while they await its completion the fear of devastation remains.
The Scottish Environmental Protection Agency (Sepa) is so concerned that it has now taken the decision to offer the village access to its flood warning service.
A major new scheme was rolled out across the east coast of Scotland this week, with 28 coastal areas connected to the firths of Forth and Tay being covered.
Residents from the Scottish Borders to Angus can now receive flood warnings to their phone 24 hours a day, offering a potentially life-saving alert.
Ordinarily Sepa only implements such a scheme when it is able to provide at least three hours warning of likely flooding.
It will abandon such a policy in the case of the Perthshire village, however, believing that even the smallest advance warning is worth offering.
That could see residents given 30 to 60 minutes notice of the likelihood of flooding, potentially enabling them to protect possessions and their properties, or look to vulnerable neighbours.
Many in the village were still coming to terms with the damage caused by flooding on August 27 last year when the River Ruchill burst its banks for a second time in November.
Hundreds had to be evacuated, with the Dalginross, Camp Road, Bank Road, Tay Avenue, Glebe Road and Duke Road areas all hit.
Sandbags are still evident across the community, with residents fearful of further flooding as Scotland continues to be hit by bad weather.
Perthshire South and Kinross-shire MSP Roseanna Cunningham said she hoped Sepa's decision would help to put worried minds at rest.
"With the recent snows now melting, fear of a too-fast thaw will have been preying on the minds of the people of Comrie, who have experienced serious flooding twice already in the past year," she said.
"Due to the nature of the Ruchill Water catchment area, and the way in which it floods, Sepa are warning that, in some circumstances, it may not be possible for them to provide warnings more than 30 to 60 minutes in advance.
"They will, of course, attempt to issue warnings as soon as possible.
"Any warning is better than no warning and I appreciate the fact that Sepa have responded positively to that message coming from the local community and agreed to put this service in place."
Sepa is in the process of contacting householders to inform them of the scheme and advise them of how they can register for the new flood alerts system.