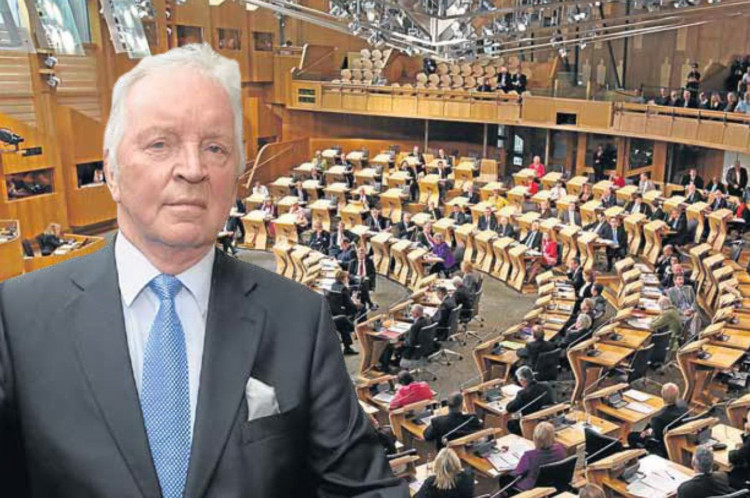 MSPs are ready to stop Bill Walker's wages and ban him from the Scottish Parliament, The Courier can exclusively reveal.
A powerful Holyrood committee has the remit to impose the sanctions, and The Courier understands high-level talks between senior politicians about how the rules can be applied to Walker have begun.
The Dunfermline MSP was found guilty of battering his ex-wives and has so far refused to vacate his seat. He is due to be sentenced on September 20, but themaximum term is one year in jail, which will not trigger an automatic expulsion.
However, a section of the Scotland Act permits MSPs to withdraw a member's "rights and privileges" if a complaint is upheld by the standards committee and the judgement is backed by parliament.
The code of conduct for MSPs setsout the sanctions available in suchcircumstances, which include "withdrawalof a member's allowance or salary"and "withdrawal of a right of access as a member to the parliamentary complex".
A senior MSP, who asked not be named, said: "We do have extensive powers as they exist at the moment our sanctionscan cut Walker off at the knees if it so chooses.
"This might surprise a lot of people and would beg the question, 'would Walker be willing to work without pay and lose his allowances if the parliament chooses to vote to do so?Surely then he'd have to stand down."
The Scottish Parliament banned four Scottish Socialist Party MSPs from the building for a month and stopped their wages after they staged an in-house protest in 2005.
Scottish Liberal Democrat leaderWillie Rennie has already taken steps to try to stop Bill Walker collecting a resettlement grant of £29,048 if he clings on to hisDunfermline seat until the next election in 2016.
Mid Scotland and Fife MSP Claire Baker joined calls for parliament to throw the book at Walker.
The Labour politician said: "The people of Dunfermline have been badly let down by the decision to allow this violent man to represent them.
"We now have a responsibility to come together as a parliament and explore every avenue possible to remove him."
The process of stopping Bill Walker's pay and privileges begins with a complaint by an MSP to the presiding officer Tricia Marwick.
The Courier understands she has held discussions with one MSP and theparliament's lawyers are looking at whether "retrospective action" can be taken.
If Ms Marwick decides there is a case to answer, she would refer the complaint to Stuart Allan, the commissioner for ethical standards.
Mr Allan would carry out an an investigation before referring the matter to the convener of the Standards, Procedures and Public Appointments Committee, Dave Thompson MSP.
The committee would then consider the complaint and make a recommendation to Parliament which would be drafted as a motion to be voted on by MSPs.
A senior MSP, who asked not to be named, said: "This could ostensibly withdraw all of Walker's salary and allowances for the remainder of the parliamentary term and debar him from the parliamentary campus."
A spokesman for the presiding officer declined to discuss meetings she has held with MSPs over Walker's case.
He added: "The MSP Code of Conduct specifically states that it does not cover activities in relation to members' private and family life.For that reason a complaint made to the ethical standards commissioner or to the SPPA committee relating to Bill Walker's criminal conviction is unlikely to be admissible."
One MSP, who asked not to be named, said: "With a growing number of MSPs signing Willie Rennie's motion I think the presiding officer is unwise to pre-empt the mood of the parliament."