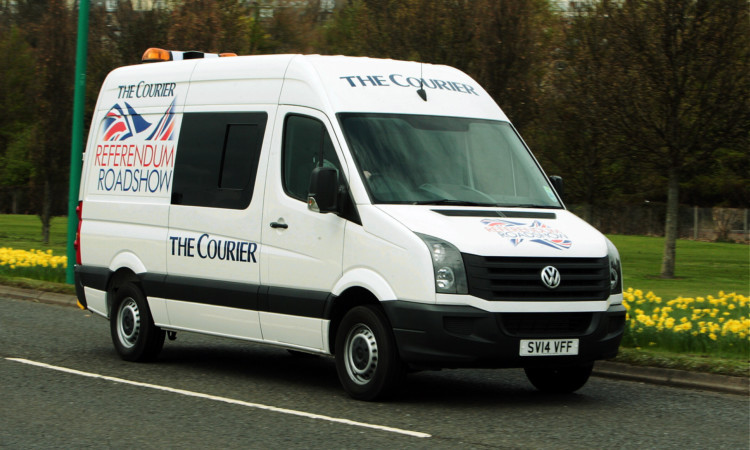 When we published the results of our Courier Referendum Roadshow survey I expected quite a reaction. We sure did get it.
From both sides claiming wins Yes for Dundee, Better Together the rest of our patch to anyone who didn't like the results branding our survey worthless, there was a tidal wave of opinion.
Let's start from this one, vital, place. Our survey was not an exact science. It was not carried out like a normal poll, it was not weighted, it was self-selecting to the extent that it sampled the people who turned up when our bus was in towns, villages and cities across Tayside, Fife and Stirlingshire.
It was essentially a snapshot of opinion on the ground in East Central Scotland. Of course, because of the fact we made our 88 stops during the day, 41% of people quizzed were over the age of 65. That's a big number, and one that may well skew the results somewhat.
A little more than half of our respondents were men (55%), probably not enough of a difference to say there was any great gender imbalance.
So, I'm pretty sure we can all agree this was not perfect. It was interesting, though. The number of people we engaged with, across a wide area, ensures that.
It was interesting that it did not show much change from the rough results that most opinion polls have returned across the campaign.
It was also interesting that, in line with whispers emerging from both the Yes and No camps, Dundee appears to be in favour of independence. I've been told of plenty of instances where campaigners have been chapping doors and returned a sizeable Yes majority. This has ranged from six to one to three to one depending on circumstances.
These areas tend to be where there is most depravation. Where people have less to lose, where many feel they do not benefit from being part of the UK anyway.
So it was with some shock I clocked the result from Broughty Ferry: also a Yes.
That's very different to Angus, Perthshire and Fife. Perhaps it is because it is easier to organise campaigns in a city, but it still seems extraordinary that one area can take almost the reverse view of those surrounding it despite the political map looking roughly the same.
We acknowledge this was not an official poll. The big aim of our roadshow was to engage people and it certainly did that.
The results of the survey? I reckon they are a fantastic illustration of what people on the street are speaking about.
A giant chat in the pub, if you like. For me, that's a great thing at this stage in the campaign.