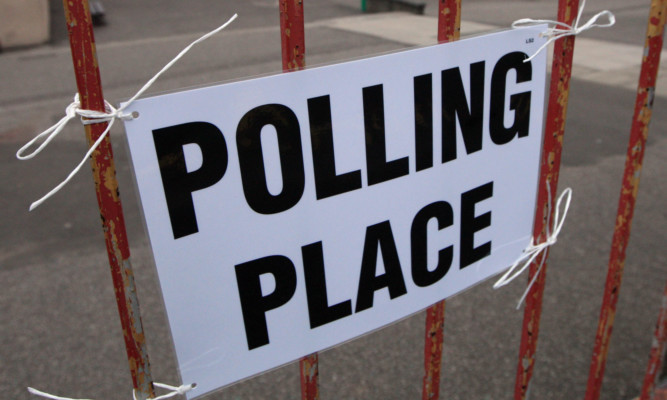 Police presence will be increased at polling stations on September 18 in anticipation of potential trouble when passions run high as people cast their votes on independence.
Multiple sources in Tayside and the Central Belt have told The Courier plans have been drawn up to make sure officers have a visible presence at every venue where people can cast their ballot.
An exceptionally high turnout is expected and the debate has been highly emotive, with figures on both sides being subject to abuse, threats and alleged instances of violence and vandalism.
One insider said: "When there's a general election, officers are usually told to be aware and there are two or three at a count at night. This time they are going to have arrangements for cover at every polling station.
"That doesn't mean they will have cops there all day, but they will all be monitored."
It is understood there are also plans for a higher police presence at the overnight counts where the referendum results will be announced, while security around ballot boxes will be exceptionally tight to ward off any potential suggestion of vote tampering.
The outcome is expected to be announced on the morning of September 19.
Police Scotland Assistant Chief Constable Bernard Higgins said: "The referendum is a significant event which is expected to attract a higher than normal turnout. Policing arrangements for the referendum are well in hand and will be appropriate and proportionate.
"Police Scotland's priority is to ensure public safety and security. We will respond appropriately to any issues which arise. We will not offer comment on the numbers of officers or their specific operational deployment."
Earlier this year a man was jailed for making death threats against Alex Salmond, while another man has appeared in court on similar charges.
Police have also investigated online abuse against the likes of Harry Potter author JK Rowling after she donated £1 million to Better Together.
A raft of other complaints have been made, including police investigations into graffiti scrawled on Angus South MSP Graeme Dey's office in Arbroath and an alleged attack on Kirkcaldy MSP David Torrance in a pub in the Fife town.
Better Together have said pro-Union signs have been ripped up and vandalised, among other reported threats.
A spokesman for Yes Scotland said: "Next month's referendum is being predicted to have the biggest turn-out of voters in Scottish political history and, as such, we would expect the police to make a considered judgment as to operational deployment."
A Better Together spokesman said: "The vote on 18 September is the biggest decision we will ever face as a country.
"It is vital that Scots are free to make that decision without fear of threats or intimidation."