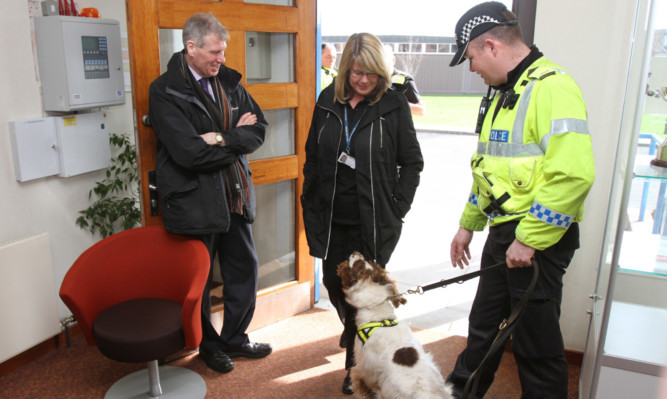 Former Scottish Justice Secretary Kenny MacAskill has called for drug users not be prosecuted.
The SNP MSP, who is standing down at May's Holyrood election, said sweeping reforms of laws governing the use and possession of illegal substances are required.
It is not the first time he has spoken out since being sacked from Nicola Sturgeon's cabinet. He told the Scottish Government to review its "shameful" position on prisoners not being allowed to vote, despite backing the policy whilst a minister.
Mr MacAskill said: "My view is that we should look to treat drugs as a public health problem rather than a law and order one. We should stop locking up young people and the, frankly, the poor.
"This is the direction of travel all over the world in countries like the United States and Portugal. It allows you to invest the resources that currently go in to law and order, policing, in to health."
Police Scotland last week revealed it would no longer report cannabis users it caught with small quantities of the drug for prosecution.
The Conservatives said the Scottish police cannabis announcement amounted to the "back-door declassification of this dangerous drug".
Tory justice spokeswoman Margaret Mitchell said: "These comments follow reports that Police Scotland is changing the way it deals with those found in possession of cannabis.
"Considering that – alongside the fact Kenny MacAskill is a former justice secretary – we now need urgent confirmation on just what the Scottish Government's position is on this hugely important matter.
"It's bad enough that police want to decriminalise cannabis by the back door, but now it seems some senior figures in the SNP want to go even further.
"This is another indication of the SNP's chaotic handling of Scotland's criminal justice system."
David Liddell, director of the Scottish Drugs Forum, said: "We welcome the brave lead taken by the former Justice Minister in opening up a debate on the decriminalisation of drugs.
"The need for an open debate on the subject was called for by our members at our annual general meeting last month.
"We have to focus our measure of success in terms of reducing harm, and there is significant emerging evidence from a number of countries that decriminalisation can do this – provided it is combined with a broader public health approach."