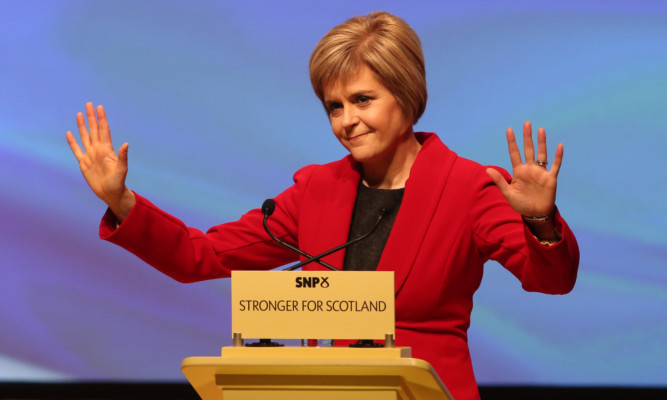 Nicola Sturgeon will insist her SNP is the "best party" to govern Scotland, as she calls on those who rejected independence to back them in next year's Holyrood elections.
Winning an "historic" third term in office for the nationalists is the First Minister's goal in May.
The SNP leader will today use her party's largest ever conference to put activists firmly on an election footing.
Her opening speech at the event in Aberdeen will address the possibility of a second independence referendum.
But with fewer than seven months to go till voters elect representatives to the Scottish Parliament, she will insist the SNP is "also a party with another mission".
"There will, understandably, be significant interest in what our manifesto will say about independence," Ms Sturgeon will tell the conference.
"But let me make this clear: What matters just as much to me and to people across the country will be what it says about jobs and the economy, the safety of our communities, our hospitals and health centres, our schools, colleges and universities and our plans to use new powers to tackle poverty and inequality.
"On all of these issues and many, many more, our manifesto will set out radical, ambitious and progressive policies to make this country even stronger."
As part of her opening speech Ms Sturgeon is expected to make a "significant" announcement on housing policy
Some 3,500 delegates have registered to attend the conference, along with almost 1,000 observers, exhibitors and journalists.
In an "amazing year" in Scottish politics, which saw the SNP win all but three of the Scottish seats at Westminster, the party is now four times bigger than it was on September 18 last year, when the independence referendum was held.
Meanwhile an opinion poll last week put support for the party at 56% – more than Labour, the Conservatives and the Liberal Democrats combined.
"The growth of our party is extraordinary," Ms Sturgeon will declare.
"But it is as nothing compared to our growing support right across the country. In the general election in 2010, fewer than half a million people voted SNP. In the Scottish election a year later, our support grew to just over 900,000 votes. And in the general election this year, almost 1.5 million people chose our party.
"That's almost one million more people – in just five years and across all parts of our country- persuaded to put their trust in the SNP to lead Scotland forward."
The SNP will be "the strong, united and progressive opposition" to the Conservatives at Westminster that people across the UK "are crying out for, she will say.
In addition it will "begin to set out our claim to lead Scotland confidently into the next decade" at the conference.
Ms Sturgeon will add: "I don't just want to win the votes of independence supporters. I want to inspire people who voted No last year to vote SNP too.
"I want them to vote SNP because they know we are the best party, with the best ideas and the best people to lead Scotland forward.
"Everyone, from the strongest supporter of independence to the stoutest advocate of the Union, has the right to know that we will continue to govern well with the powers we have at any given time."
But Labour's shadow Scottish secretary Ian Murray said the SNP administration must be "judged on their record of running our schools and hospitals"
He stated: "In 2001, Nicola Sturgeon said that 'a party that is now in its second term of office cannot avoid responsibility for its own failings'.
"The truth is that in our schools the gap between the richest and the rest is growing, and our hospitals are struggling.
"Just this week we saw specialist support sent to Scotland's £850 million flagship hospital for the second time in four months after the hospital had the worst waiting times it had ever had with almost a quarter of patients waiting more than four hours for treatment.
"Today we see Scotland lagging behind the rest of the UK for jobs figures. The SNP have been in government for eight years now, they are starting to look like the establishment in Scotland, an establishment that is running out of ideas."
Scottish Conservative chief whip John Lamont said: "While the Scottish Government has been spending millions of pounds and investing countless hours in trying to break Britain apart, standards have slipped.
"As a consequence our schools, hospitals and roads are not doing as well as they should be."
He stated: "The people of Scotland have waited more than eight years for the SNP to put the constitution aside and focus on issues that really matter."
Meanwhile Scottish Liberal Democrat leader Willie Rennie said the creation of the Police Scotland national force had been "one of the SNP's most significant policy failures" adding: "After eight years of SNP government we have a situation where morale in the force is at rock bottom. Officers are overworked and feel undervalued. Public confidence in the force has been dented by scandal and controversy.
"The First Minister needs to take her head out of the sand and address this glaring shortcoming when she takes to the conference platform in Aberdeen this week."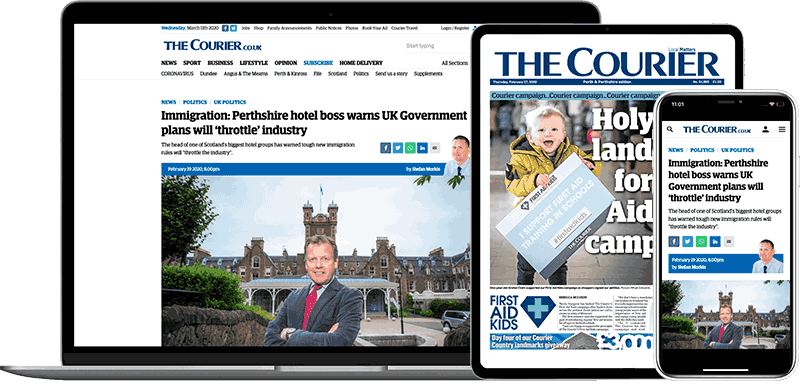 Help support quality local journalism … become a digital subscriber to The Courier
For as little as £5.99 a month you can access all of our content, including Premium articles.
Subscribe