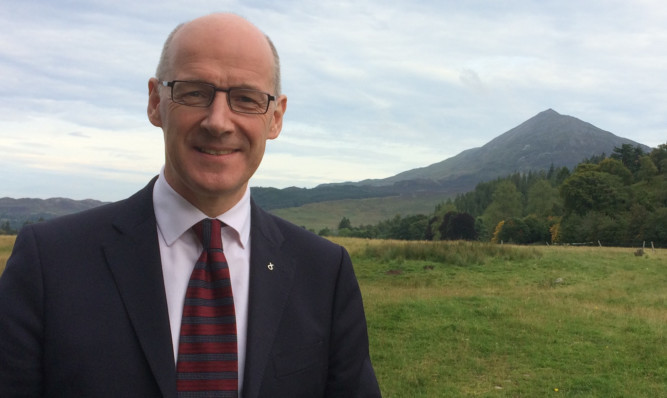 John Swinney has launched a stinging attack on the early negative tactics of the EU referendum In campaign.
The Courier revealed on Monday that the SNP would not be signing up to the cross-party group and the Deputy First Minister slammed the messages pushed forward at its launch event this week.
He emphasised his party's plan to have its own position but conceded members may speak alongside people from other parties.
He told BBC Radio Scotland: "When I look at some of the arguments that were being banded around yesterday, I thought they sounded awful depressing and not particularly motivating.
"We need to have a really strong, positive message as to why Scotland should remain within the European Union.
"I think, given the political leadership that the SNP exercises within Scotland today, that's a very natural role for the Scottish National Party to exercise."
Mr Swinney claimed his party had always tried "to set out the positive arguments for what we believe in" as he drew comparisons between Yes Scotland and Better Together, which was nicknamed "Project Fear" by its own staff, in last year's independence referendum.
He added: "What we want to make sure is that we have a clear and distinctive message about why Scotland should remain within the European Union."
Britain Stronger in Europe has been criticised for highlighting financial risks of leaving the EU in its early messages.
BT chairman Sir Mike Rake has argued the In campaign was "not trying to scare people" but added businesses had a "duty, an obligation and a right" to set out the effect on investment.
Former prime ministers Sir John Major, Gordon Brown and Tony Blair are supporting the campaign, alongside Labour MP Chuka Umunna, Green MP Caroline Lucas and Conservative MP Damian Green.
Paul Stephenson, a spokesman for the Vote Leave campaign, said: "I can understand why, when the SNP have fought against 'Project Fear' mark one, they wouldn't want to take part in 'Project Fear' mark two."
Scottish Liberal Democrat leader Willie Rennie accused the Nationalists of putting "narrow party interest" before the future of the country.
He said: "It is ludicrous for the SNP to take a 'mibbes aye, mibbes naw' approach to the campaign to keep Scotland and the UK part of the EU.
"It is down to all of us who think that we are better off in Europe to make the positive, aspirational case for our EU membership."