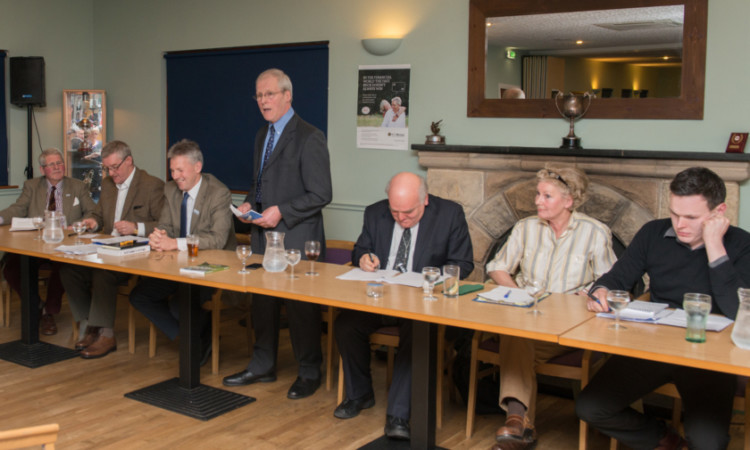 There can be little doubt that the independence referendum debate run by West Fife branch of NFU Scotland on Monday evening came up with a conclusive result.
After nearly three hours of debate between Farming for Yes and Rural Better Together, a secret ballot produced only four votes for independence as opposed to 48 in favour of staying in the UK, with 10 saying they were undecided.
There may have been another 10 in the room at Cluny Clays, near Kirkcaldy, who did not vote at all but, if this is an accurate reflection of how farmers and their families will vote on September 18, it is not an encouraging result for the Yes campaign.
It must be said that the debate, chaired by former NFUS vice-president and Courier columnist Peter Stewart, saw two rather ill-matched teams of speakers.
The Better Together side fielded a trio of political and business heavyweights.
Aberdeenshire farmer and former NFUS vice-chairman Peter Chapman opened for the unionists, followed by Angus farmer and former NFUS potato convener James Black and George Lyon MEP, a current member of the EU parliament's agriculture committee.
The Yes argument was opened by Bathgate young farmer Johnny Hamilton, followed by Daye Tucker, a director of Scottish Land and Estates and a relatively new farmer from Balfron, and then by Roderick Campbell, SNP MSP for North-East Fife.
It would be unfair to say they did not make telling points but they seemed to lack the hard-hitting commercial edge that the NFUS members in the audience were looking for.
In his opening remarks, Peter Chapman, who produces cereals, beef and eggs near Strichen, said uncompromisingly: "Ripping apart the UK would be bad for my business and bad for yours.
"My business is viable and profitable, but only just.
"It wouldn't take much of a shift to change that and I just hate the uncertainty this is causing.
"My message to the undecided is to ask them if they want to take the risk of buying this pig in a poke."
Daye Tucker, who farms without Single Farm Payment, took a more optimistic view of how an independent Scotland would be governed.
"Politicians in Holyrood have matured since the early days and people from the south often say how lucky we are to have Richard Lochhead leading us compared to Owen Paterson, who hasn't a clue about what happens north of the border," he said.
James Black warned that the potato packer he deals with was concerned about the extra cost of cross-border trading with the rest of the UK should there be independence.
He said: "Scottish potatoes don't have a brand like Scotch whisky. It is a very competitive world out there for all farm commodities and I wonder how the rest of the UK would look on buying from what would become a foreign country."
Roderick Campbell countered by pointing out the UK had no problem dealing with the Republic of Ireland.
"Small countries do better than large ones and in any event the budget deficit would be lower in Scotland than in the rest of the UK," he said.
George Lyon said he had seen the damage caused to Ireland by the financial crisis.
He also warned against following the Scandinavian "high tax and high spend" model.
Currency and national debt were at the heart of Monday night's debate.
Questioned from the floor as to why there was no Plan B for currency, Mr Campbell said there were alternatives but the Edinburgh Agreement signed by David Cameron and Alex Salmond included the principle that there should be no detailed negotiations until after the referendum.
Peter Chapman responded angrily saying: "Why is the SNP so determined to keep the pound?
"Is it because they are frightened to tell the people the truth about what it would be like if we had to use another currency?
"I am annoyed at Alex Salmond saying that he would default on Scotland's share of UK debt if he doesn't get to use the pound. What sort of message would that send out to the international money markets?"
Photo by Angus Findlay Photography.