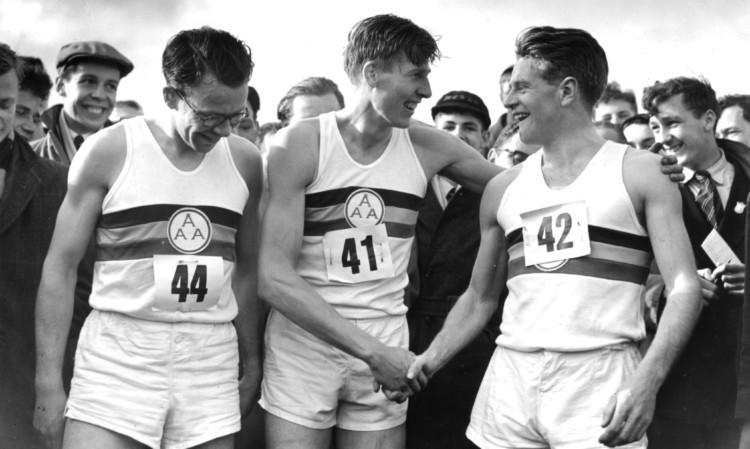 David Cameron has led tributes to record-breaking athlete and Tory former minister Sir Christopher Chataway, describing him as "one of a kind" and a "great Briton".
Sir Christopher, who acted as a pacemaker to help Sir Roger Bannister become the first man to break the four-minute mile barrier in 1954, died aged 82.
He died at around 7am on Sunday at St John's Hospice in north-west London having suffered from cancer for two and a half years, his son Mark Chataway said.
Mr Cameron said: "Chris was a rare politician in that he enjoyed such extensive, wide-ranging and successful careers both before and after he served in parliament."
Sir Christopher won the very first BBC Sports Personality of the Year in 1954 and later pursued a successful career in politics and business.
The Prime Minister said: "In politics, he held a number of influential positions and as the Government Minister responsible for introducing local commercial radio, left a lasting legacy millions continue to enjoy today.
"And after politics, Chris continued to hold senior positions with organisations as diverse as BT Systems, Laker Airways, and Bletchley Park.
"Chris was one of a kind; throwing himself into every project and achieving so much in so many fields. We have lost a great Briton, a true Conservative and a man of many talents.
"My thoughts and prayers are with Chris's family."
Mr Chataway, 53, described his father as a "very compassionate and wise man" who had the "ability to put other people's needs first".
"We were, especially in these last few years, struck by his amazing qualities of humility and strength," he said.
Mr Chataway said he and his siblings "grew up with him as a person, not as a runner", adding: "Of course we all thought it was remarkable. We all saw the old footage, but I think as a child that's not what you focus on in a parent."
Sir Christopher kept his passion for running alive even when he was approaching 80 years of age.
"He kept running almost until the end of his life. He ran with a couple of my brothers in the Great North Run about three years ago now," Mr Chataway said.
Adding: "And then doing it in a very respectable time."
Sir Christopher is best remembered for a race in Oxford on May 6 1954 which he did not even win.
He was one of the pacemakers, along with Chris Brasher, who helped Sir Roger Bannister become the first person to break the four-minute mile at the Iffley Road track, a mark which had remained elusive for so long.
He gained the recognition for himself later that year, though, when, two weeks after taking 5,000 metres silver behind Vladimir Kuts at the European Championships in Berne, he beat the Russian on the way to breaking the world record for the distance.
Sir Christopher clocked 13 minutes 51.6 seconds at a televised race at White City, edging out his rival by 0.1 seconds. Kuts reclaimed the record shortly after.
Mr Chataway said he believed Sir Christopher would like to be remembered as "a wonderful father, a husband, a grandfather".
"Those probably mattered more than any of the sporting or political things," he said.
Sir Christopher was knighted for his services to the aviation industry.
Speaking about taking part in the Great North Run at almost 80 years old, Sir Christopher said at the time: "I sometimes think that running, which was a sort of tormentor in my youth, has returned to be a friendly codger in my old age – that what was Joe Stalin has turned into Dixon of Dock Green."
David Moorcroft, who like Sir Christopher broke the 5,000m world record, recalled that his friend kept on running in to his old age and even after he was diagnosed with terminal cancer.
Mr Moorcroft said: "He became a hero to athletes for what he did in his 70s and older with the Great North Run. Veteran runners were in awe of him as we were in our prime.
"I am really sad today at his death but very grateful for the friendship of such a very special man.
"The first letter that I received when I broke the world record (in 1982) was from Chris, even though I did not know him very well then.
"He was a wonderfully kind bloke and a great listener – when he spoke it was never about him and it was always about others. He had great opinions which were very balanced opinions and he was very experienced across politics and aviation. It made him so engaging if you were in a room with him.
"He was not a loud person. He could hold a conversation and it was always about encouraging others to talk. He had great charm, charisma, personality and integrity."
Sir Christopher is survived by sons Mark, Matthew, Adam, Charles, Ben, daughter Joanna, his wife Carola and his former wife Anna.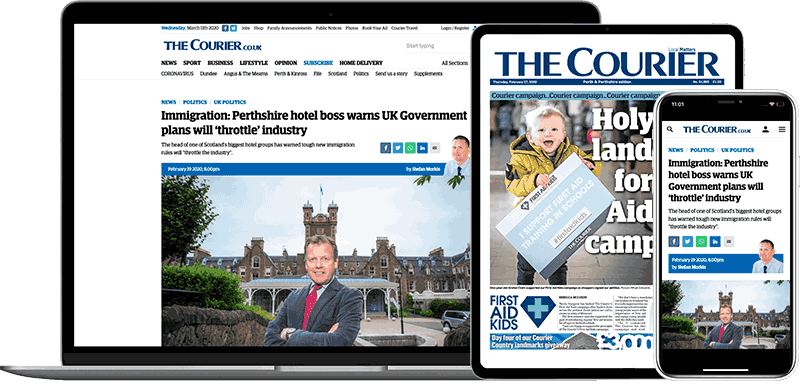 Help support quality local journalism … become a digital subscriber to The Courier
For as little as £5.99 a month you can access all of our content, including Premium articles.
Subscribe