 This week's independence debate at Stirling Agricultural Centre was a real heavyweight event.
Hosted by United Auctions and organised by NFU Scotland, it will almost certainly be seen as the set-piece battle of the campaign as far as the farming community is concerned.
Looking around the packed sheep ring, Deputy First Minister Nicola Sturgeon said it was the largest gathering she had addressed so far on behalf of the Yes side of the debate.
NFUS had issued 400 tickets for the debate, which was affably chaired David Dimbleby style by president Nigel Miller
Ms Sturgeon was joined by Rural Affairs Secretary Richard Lochhead and Glenalmond hill farmer Jim Fairlie.
Arguing the Better Together case, Scottish Secretary Alistair Carmichael was partnered by Lib Dem MEP George Lyon and Buchan farmer Peter Chapman.
Had there been marks for oratory all six would have been in the top drawer. There was little, however, that was genuinely new.
Not surprisingly with a farming audience, EU membership was a theme that cropped up repeatedly over three hours of debate.
"There is not a shred of doubt about our continuing EU membership," said Ms Sturgeon.
"If the country votes Yes on September 18 we will have 18 months to negotiate with the EU before independence. There is not going to be a gap.
"For those who say 18 months is not long enough, remember that the former East Germany, a Communist state, was brought into the EU as part of a wider Germany in just three months.
"What possible interest would there be for anyone in keeping Scotland out?"
In support, Richard Lochhead pointed to the Common Fisheries Policy. If Scotland was not involved as a member state the policy would fall apart, he maintained, simply because of the importance of Scottish waters.
Alistair Carmichael conceded that Scotland probably would eventually become an EU member state. "But on what terms?" he asked. The EU was a treaty-based organisation and to expect all 28 member states to give preferences to Scotland which they did not in many cases enjoy themselves was a fantasy.
This would mean an end to the UK rebate, pointed out George Lyon, and every likelihood of being forced to use the euro because the painstakingly negotiated UK opt-out would no longer be valid.
There were questions, too, about how an independent Scotland would pay for farm support if it was not in the EU.
The Scottish Government would stand good, said Ms Sturgeon. The country would be a net contributor to the EU and if it did not have to pay into the European coffers the money could be used to support the farming industry directly.
There was as much dispute about the benefits, or not, of independence to the farming community.
Peter Chapman said that like many farming businesses in Scotland his was profitable but only just.
"Business hates uncertainty and that means currency, exchange rates and interest rates. Remember, we would be in a country dominated by an urban central belt.
Jim Fairlie, a founder of the farmers' market movement, scorned those who took a negative stance. "The Scottish Government's food and drink policy in recent years has been nothing short of revolutionary.
"Scotch Beef is our brand and it would be just as strong after independence."
There were pitfalls, too, in the debate.
Richard Lochhead struggled to explain how red meat levies could be gathered in an independent Scotland.
Alistair Carmichael and George Lyon faced a wave of audience hostility over Defra's allocation of EU convergence uplift within the UK.
There was no vote on Monday evening, but from my vantage point I would estimate 30% of the audience applauded the points in favour of independence.
The other 70% were less voluble. Were they Better Together voters, undecided, or simply keeping their powder dry to the point of aridity?
Time will tell.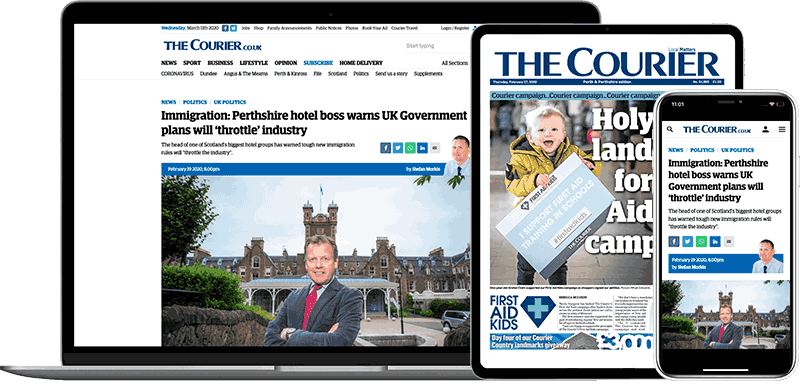 Help support quality local journalism … become a digital subscriber to The Courier
For as little as £5.99 a month you can access all of our content, including Premium articles.
Subscribe