A Fife MSP blasted the Scottish Government for rewarding Amazon with a £1 million grant last year when the online retailer does not pay the living wage.
Willie Rennie, the leader of the Scottish Liberal Democrats, raised eyebrows this week when he said Fife would be "far better off" if the Government had focused on home-grown industries rather than chasing "tax-dodging" companies like Amazon, which is one of the kingdom's biggest employers.
He stuck to his guns at First Minister's Questions today when he criticised Nicola Sturgeon's administration for paying the grant to the Dunfermline-based company without ensuring it pays the living wage.
He said the company's London HQ "boasted" they paid £7.20 an hour, even though that is well below the Scottish living wage of £8.25.
"Does the First Minister think it's wise to reward companies that pay such low wages?" he asked.
Ms Sturgeon said the Scottish Government is well ahead of the game in encouraging employers to pay the living wage.
She said: "There are more people in Scotland paid the living wage now than in any other UK nation or any other part of the UK outside the South-East of England."
Kezia Dugdale, the Scottish Labour leader, told Holyrood the SNP's plan to double free childcare house is "a big con" because it comes as capital funding for new nursery buildings has been cut by 57% and the Government's childcare pledge has fallen by 5.3%.
Ms Sturgeon said the plan is fully-funded and the capital budget has not been cut, but has been "re-profiled", through measures like the Attainment Fund.
She said there has been no alternative put forward by Scottish Labour, adding Ms Dugdale "has to do more than whine from the opposition benches".
Scottish Conservatives leader Ruth Davidson criticised the Government for letting school inspections fall by 70% since 2004/5 and called for more transparency over performance for parents.
Ms Sturgeon said her government were going way beyond Conservative proposals for education by introducing standardised assessments which will give parents more information on their child's performance.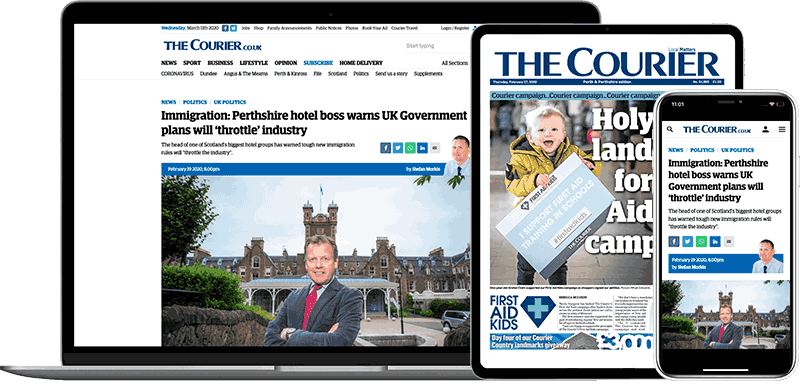 Help support quality local journalism … become a digital subscriber to The Courier
For as little as £5.99 a month you can access all of our content, including Premium articles.
Subscribe