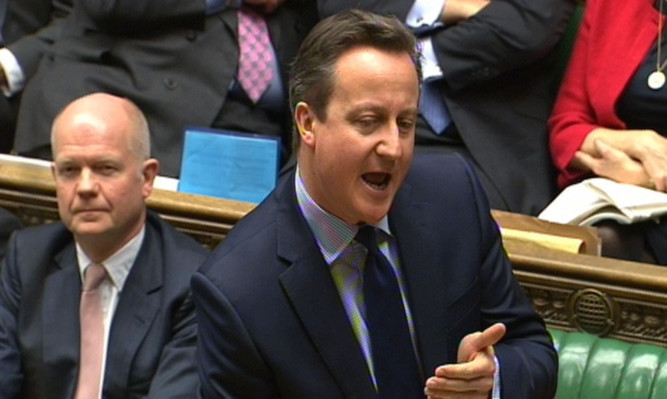 David Cameron has been accused of "running scared" after challenging Alex Salmond, not Ed Miliband, to a TV debate ahead of the general election.
The Prime Minister once again launched an attack of Labour's refusal to rule out a power sharing deal with the SNP at Westminster in the event of no party having a majority after May's vote.
It came as opposition leader Ed Miliband used his allotted time at Prime Minister's Questions to try to pressure the Tory leader into taking part in a live head-to-head with him.
Mr Cameron replied: "He said any time, any place, anywhere. I told him March 23 let's hold that debate.
"I'll tell him what has changed. We have now got a situation where it is obvious Labour cannot win without the SNP.
"He says we need the two leaders who can call the tune. That is me and Alex Salmond, so let's have the debate."
Mr Cameron claimed Labour was not hoping to win an outright majority any more. "They are just trying to crawl through the gates of Downing Street on the coat tails of the SNP," he added.
"What he has got to do is prove he is not a chicken and rule that out."
However, former First Minister Mr Salmond branded the Prime Minister a "posh boy", while SNP depute leader Stewart Hosie pointed out Nicola Sturgeon is now in charge of the party.
Mr Salmond said: "Cameron ran scared during the referendum campaign and now he's running scared again.
"He should have been called to account last year and should be called to account this year. Like most posh boys, given half a chance, he'll run away from a fight.
"Nicola Sturgeon would eat him for breakfast in a debate."
During the exchange at PMQs, Mr Miliband had said there was "only one person preparing for defeat and it is this Prime Minister".
He added: "You are not going to be able to wriggle off this…We know you lost to the Deputy Prime Minister last time, why don't you just cut out the feeble excuses and admit the truth: you are worried you might lose again?"
Mr Hosie said: "If David Cameron wants to debate the SNP he should turn up for the TV debates where Nicola Sturgeon would be delighted to take him on."