 MSPs have questioned the predicted £300 million a year cost of implementing Frank's Law as a disabilities campaigner accused ministers of vastly inflating the likely sum.
Holyrood's public petitions committee considered work carried out by government officials and Stirling University's Professor David Bell, which examined the cost of closing a loophole which means people suffering from degenerative diseases have to pay for home care because they are under 65.
They will now write to Health Secretary Shona Robison asking for further details.
Meanwhile, Ian Hood, of Learning Disabilities Alliance Scotland, claimed there was "a serious error" in the calculation. He said: "Their principal point is that currently 75% of people over 65 who get High Rate DLA or Attendance get social care and that if social care was free for people under 65 then that proportion would rise at a similar level.
"This would mean that there was a current 'un-met need' of 5,200 people not getting social care. We think that there is a serious error in the Scottish Government analysts' figures.
"They are saying that it will cost £55 million to end care charges for 27,240 known people but £330m to end care charges for 5,200 unknown people. Common sense should say this could not possibly be correct."
Amanda Kopel launched her campaign after her husband Frank, the Dundee United legend, was diagnosed with dementia aged just 59 and died shortly after his 65th birthday.
The Kopel family paid thousands of pounds in care costs for him until just weeks before his death because of the loophole.
Amanda said: "Not everyone under the age of 65 may need personal care in their lifetime.
"We are constantly being told that we are all living longer, but sadly the people, like my late husband and others under the age of 65 never got that chance when they were diagnosed with a terminal disease."
A Scottish Government spokesman said: "We are currently considering the letter to the Public Petitions Committee and we will provide a full response in due course.
"Along with partners in local government, we're considering sympathetically and as a priority what further action we can take to deliver fairer care for the people of Scotland."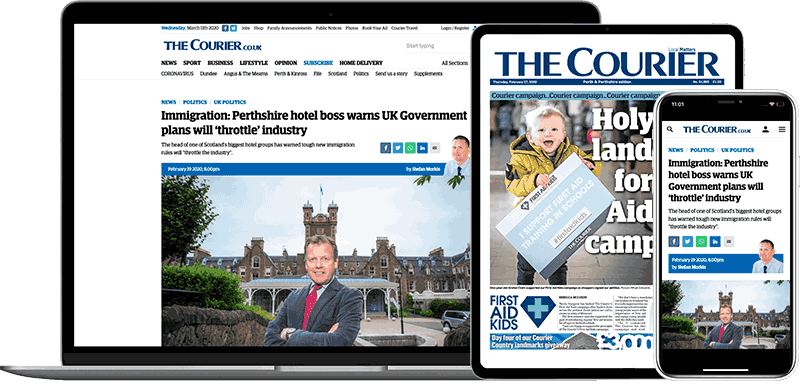 Help support quality local journalism … become a digital subscriber to The Courier
For as little as £5.99 a month you can access all of our content, including Premium articles.
Subscribe