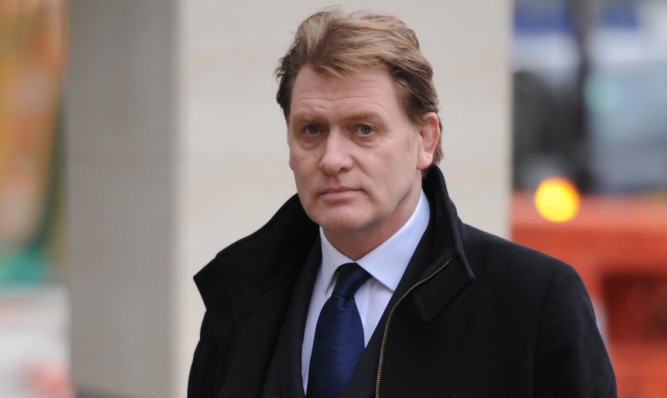 Disgraced MP Eric Joyce was putting hotel bills of up to £450 a night on a taxpayer-funded credit card for more than two years before it was blocked.
The ex-Labour backbencher, who is standing down at the election after admitting assaulting a Tory counterpart in a Commons bar, repeatedly used his card to settle big bills that were later declared unclaimable on expenses.
But the Independent Parliamentary Standards Authority (Ipsa) did not withdraw it until this January by which time the spending had helped him run up a total debt of some £13,000.
Mr Joyce is now being docked £1,000 a month from his Commons salary but that will not clear the outstanding sum of around £10,000 before Parliament is dissolved.
The Falkirk MP accepts that he made mistakes in filing claims after using his card, suggesting he was also paying for rooms for staff.
However, he is disputing at least £6,000 of the debt.
If he refuses to repay voluntarily the watchdog's only option will be to pursue him in the civil courts.
The details emerged after Ipsa admitted it has been labelling some of Mr Joyce's hotel claims as "not paid" in its regular disclosures when in fact it has paid a much higher bill in full.
The watchdog confirmed he put £743 on a card to fund a three-night stay at a "non-London" hotel, believed to be in Glasgow, in September last year.
The bill was automatically paid by Ipsa.
But as he is only entitled to claim up to £120 a night for hotels outside the capital, an excess of £383 was added to his debt.
The published expenses records merely state that £383 was "not paid".
He was "not paid" £272.33 for a non-London hotel claim in August, and £208 for another in September.
Mr Joyce stayed at a prestigious Intercontinental Hotel in London in May 2013, when he appears to have broken the £150-a-night limit for hotels in the capital by £203.05.
He used the same group again the following month, but this time breached the ceiling by just £61.45.
The issues seem to go back to at least 2012.
In December of that year, 10 months after he headbutted a Tory MP in a fight in a Commons bar, he charged £896.92 to the card for a two-night stay at a London hotel.
It is understood that the claim was declared invalid because key parts of the receipt had been blacked out although again Ipsa had already footed the cost and subsequently reported it as "not paid".
Altogether there are dozens of hotel claims listed as either "not paid" or "part paid" since 2012, totalling some £4,000.
The Court of Appeal is due to hear the case later this month but no judgment is expected until after the election.