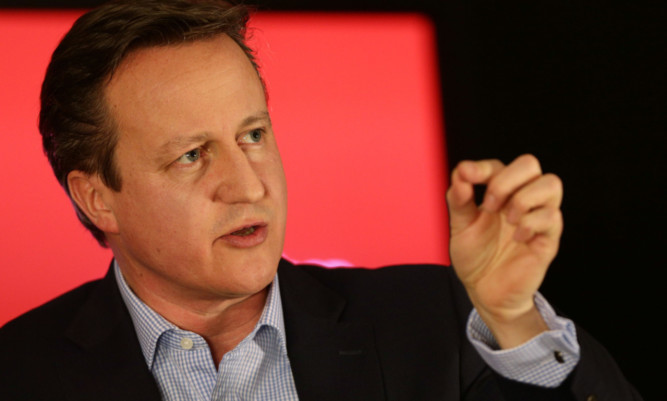 David Cameron has poured cold water on speculation of a post-election deal with Ukip, saying that the prospect of meeting their demand for a referendum this year on Britain's EU membership was "pretty slim".
Speaking to ITV1's Good Morning Britain, the Prime Minister made clear he would not talk about possible coalitions until after the May 7 election, insisting that he still believes his goal of an overall Conservative majority "can be done".
Asked whether he would stay on as Conservative leader if he fails to win power, Mr Cameron would say only: "That's a matter for the public and a matter for the party."
Mr Cameron also let interviewer Susanna Reid in on some of the secrets of what life is like for a family with young children at 10 Downing Street.
The Prime Minister has vowed to renegotiate the terms of the UK's membership of the European Union before holding an in/out referendum by the end of 2017.
"I have said there will be a renegotiation and then a referendum. Obviously, the sooner that renegotiation can get done, the better," he said.
But in response to the timetable demanded by Mr Farage, the Prime Minister said: "I would have thought, frankly, the chance of doing that in 2015 after an election in May is pretty slim.
"I'm going to spend the next 50-odd days campaigning for a Conservative majority Government. I think it can be done. If I fall short you can ask me the next day what I'll do about it."
The PM dismissed suggestions that he was refusing to take part in a head-to-head TV debate with Ed Miliband because he was frightened of taking on the Labour leader one-on-one.
Asked if he was "scared" of the proposed showdown – which Sky News and Channel 4 want to broadcast on April 30, a week ahead of the general election – the Mr Cameron said: "That's ridiculous. I debate Miliband every week at Prime Minister's Questions."
Mr Miliband has said he is willing to take part in the one-on-one debate, as well as two others planned by ITV and the BBC during the election campaign, featuring seven party leaders.
But Mr Cameron has insisted he will only take part in a single 90-minute debate with at least seven leaders, scheduled for before the official campaign begins on March 30.
During the interview with Reid, which took place in Number 10, Mr Cameron opened up about family life behind the famous black door.
He said he tries to be a "reasonable dad" to this three children but admitted to feeling guilty about the amount of time he spends working.
The Prime Minister said he did not go to as many parents' evenings or help as much with their homework as he would like and acknowledged they had been "teased" over his job.
With the opinion polls indicating a very tight general election result, Mr Cameron said his three children – Florence, four, Elwen, nine and Nancy, 11 – were "very keen that the blue team win".
Asked by Reid whether he felt "working parent guilt", Mr Cameron said: "Sometimes. I take them to school maybe once a fortnight, sometimes that slips and I feel sad.
"That sort of time, taking them into school, chatting with the teacher, finding out how they are getting on, I love all that."
The PM spent time with his youngest daughter at the weekend, including a trip to see the Shaun The Sheep film.
"Sam was with the others so I took Florence and we went shopping and then we went to see Shaun The Sheep the Movie, which is brilliant, I thoroughly recommend it," he said.
"And we had a lovely day together. When you have got three children, spending time with them individually, I really like doing that because that's when they open up more.
"Of course there are things you miss. I think school parent evenings – not as many as I should; homework – not as much as I should."
Asked whether the children had been teased because of his job, he said: "A little bit, but it seems to have been OK."
Discussing family life in Downing Street he said the domestic part of the building was "much more like a family home" than the official rooms.
"It's got a kitchen at the heart of it, it's where the children do their homework, where we have breakfast. Sam has done a brilliant job making it as different as possible to the rest of the building," he said.
Mr Cameron, who has a live-in nanny, said childcare was the most important issue to many working families.
He said: "We are very lucky, we have a live-in nanny who helps with the children and we pay her. That is the biggest element of the cost and that's very expensive, we are only able to do that because Samantha and me, we are both working."
He added that his wife Samantha would make a good prime minister, saying: "I'm sure she would. She would be very good at running anything but she'll sometimes say, 'what are you grappling with at the moment?'.
"She's not on it all the time, it's not her thing, that's my thing, but she's very good at … giving a big picture view."