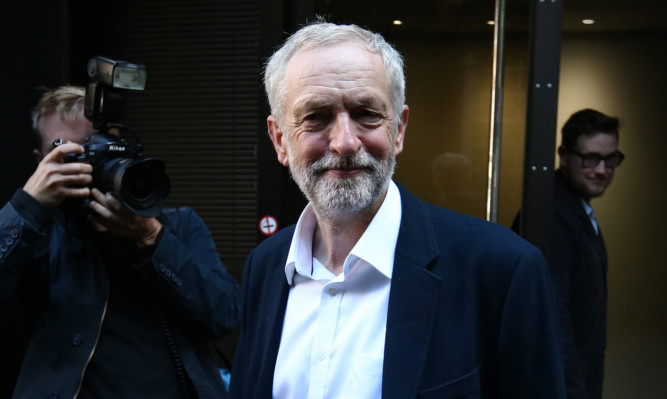 Jeremy Corbyn faced "hostility and concern" from some Labour members after he refused to rule out wearing a white poppy on Remembrance Sunday, one of the party's MPs has said.
The new Labour leader was questioned over whether he would wear the symbol of the pacifist movement instead of the traditional red poppy during a meeting of the Parliamentary Labour Party on Monday.
Labour MP Simon Danczuk said he asked Mr Corbyn, the Stop The War Coalition chairman, whether he would "promise" not to wear a white poppy to ensure the focus remained on members of the armed forces who have lost their lives.
"There were murmurs around the room and some hostility and concern around his answer," Mr Danczuk said.
"The point he made was that he had not decided what he would do this year. He went on to say why people wear white poppies.
"He should wear a red one in memory of members of the armed forces who have given their lives. It is one day in the year that it's important not to focus on other issues.
"I don't think it's too much to ask for the leader of the opposition to respect those who have given their lives."
A Labour Party spokeswoman confirmed later that Mr Corbyn, who is due to attend the Battle of Britain commemorations today, would wear a red poppy on Remembrance Sunday.
Asked whether Mr Corbyn would also wear a white poppy, the spokeswoman replied: "My understanding is he will wear a red poppy."
According to the Stop The War coalition, wearing a white poppy is a "respectful way to put peace at the heart of remembering those who died in war".
Mr Corbyn has previously worn both red and white poppies together on his lapel when laying a wreath at the war memorial in Islington as a local MP, the London Evening Standard reported.
The Royal British Legion (RBL) said it was "entirely wrong" to suggest that the red poppy supports war but the charity saw "no conflict" in wearing it alongside a white poppy.
An RBL spokeswoman said: "The legion's red poppy honours all those who have sacrificed their lives to protect the freedoms we enjoy today, including the freedom to wear the poppy of one's choice. If the poppy became compulsory it would lose its meaning and significance.
"It is entirely wrong to suggest that the red poppy supports war. The red poppy is a universal symbol of remembrance and hope, including hope for a peaceful world.
"We see no conflict in wearing the red poppy alongside the white poppy. The legion recognises the right of any group or individual to express their views within the law."