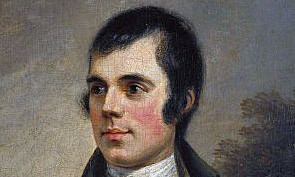 A renowned Scots academic says Scotland's bard Robert Burns would have voted for independence.
Robert Crawford, the professor of modern Scottish literature at St Andrews University, makes the argument in his new book entitled Bannockburns, which will be released later this month.
Crawford argues that because Burns was working for the Union crown as an exciseman – or taxman – he was keen to make some poems look pro-union, but personal scribblings and some of his more "heartfelt" poems show he supported independence.
He said: "Towards the end of his life, Burns was effectively a civil servant. In other words, he was an employee of the crown, so he made loyal noises.
"I think you have to give far more credence to what Burns is under no obligation to say and that is to attack the union.
"Even if you find other quotations from Burns that seem to be defending the union, you have to bear in mind that he was meant to do that because of the job the was doing at the time."
According to Crawford, poems such as Scots Wha Hae and Such A Parcel Of Rogues In A Nation are prime examples of Burns showing his patriotic tendencies.
For more on this story, see Saturday's Courier or try our digital edition.