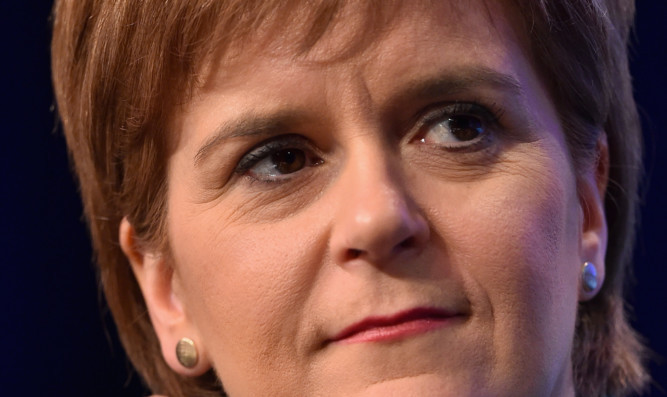 Nicola Sturgeon has pledged to act if required as police continued to investigate concerns over missing donations from a prominent pro-independence group set up by an SNP MP.
Natalie McGarry, a co-founder of Women For Independence who was elected MP for Glasgow East in May, insisted on Monday there had been "no wrongdoing on her part" after police were called in about tens of thousands of pounds of missing donations.
But Scottish Labour have called for the MP to be suspended while the probe is being carried out.
Ms Sturgeon, who is SNP leader and Scottish First Minister, told ITV Border: "I'm obviously aware of the concerns Women For Independence have raised and now reported to the police about alleged discrepancies in their finances.
"These are serious allegations. I should say Natalie McGarry is adamant she has done nothing wrong and it is important to stress that.
"Beyond the generalities of those allegations I don't yet have a full picture about the basis or the substance or the detail of them, so I'm going to consider matters carefully and if there is action that I feel the SNP needs to take, it will be taken.
"But it is very important in these situations that we balance sending a message as I have done in the past – I expect the highest standards in the SNP – but also giving people the right to fairness, due process and the presumption of innocence as well."
The First Minister also insisted the case was "not the same" as the one involving Michelle Thomson, who was elected as an SNP MP in May but who resigned the party whip in September after it emerged police are investigating property deals she was linked to five years ago.
Ms Sturgeon told ITV Border: "Michelle Thomson, of course, took the decision herself to relinquish the SNP whip, that's the first point.
"The second point I would make is that no matter what the opposition might want to do, I'm not going to make comparisons between two cases that are not the same.
"I think it is incumbent on the SNP, on me, I think it is incumbent on any leader of any party when faced with situations like this, that we consider things properly and we do that on the terms or merits of each individual circumstances."
Labour MSP Jackie Baillie said: "People in Scotland would be surprised if no precautionary action is taken against Ms McGarry, given the serious nature of the allegations and the involvement of the police."
She has now written to the First Minister, calling for her to suspend Ms McGarry.
In her letter, Ms Baillie said: "When details emerged about the police investigation into property deals involving the SNP MP Michelle Thomson you said: 'There is now a police investigation under way into these matters … Michelle Thomson has decided to step aside from the SNP while that investigation is undertaken. I think that is the right thing for her to have opted to do'.
"Given that it was right that Michelle Thomson's membership of the SNP was suspended during a police investigation, can you confirm that it is also right that the same standard will now apply to Natalie McGarry?"
Ms Baillie continued: "Reports in today's media note that the allegations about missing campaign funds relate to the period between 2014 and March 2015.
"It would be a very grave matter indeed if any official, elected member or candidate in the SNP knew anything about these allegations before the general election but failed to make them public."
Police Scotland confirmed that a report had been received and "the matter is currently under investigation".
Solicitor Aamer Anwar issued a statement on behalf of Ms McGarry which said: "Natalie McGarry MP is aware that suggestions of reported discrepancies in the accounts of Women for Independence have been passed to Police Scotland.
"I contacted Police Scotland at Natalie's request to advise them that she is ready to meet with them should they wish to.
"Accordingly, I have advised Natalie that it would be inappropriate to make any further comment until the conclusion of that inquiry, other than to state that she is certain that there has been no wrongdoing on her part."