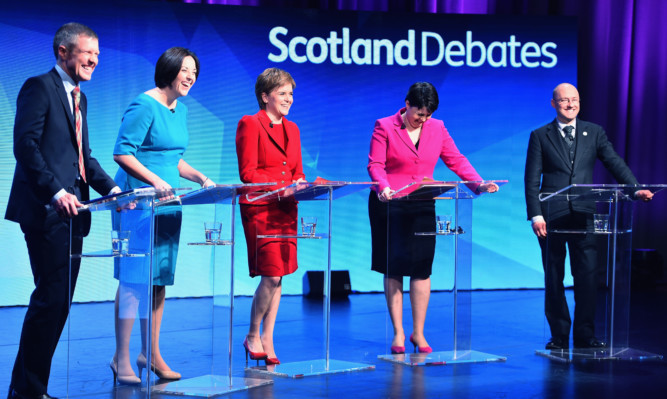 Students would pay a £6,000 "graduation tax" under Scottish Conservative plans to dump free tuition.
Ruth Davidson, the Tory leader in Scotland, also said she wanted those who could afford it to pay "about £8" for prescriptions during a row with Nicola Sturgeon over universal payments at the STV leaders' debate.
Leaders from Scotland's five biggest parties battled it out in the second leaders' debate of the Holyrood election campaign, which included a cross-examination section in which the Bute House hopefuls sparred one-on-one.
Pitted against each other were Nicola Sturgeon (SNP), Kezia Dugdale (Scottish Labour), Ruth Davidson (Scottish Conservative), Willie Rennie (Scottish Liberal Democrats) and Patrick Harvie (Scottish Greens).
Pressed by Ms Sturgeon on her plans to bin the SNP's flagship free tuition policy, Ms Davidson said: "It's not a graduate tax, it's a contribution after you have graduated and once you are earning money. We expect it to be within the region of just over £1,500 a year that you are at university, so that's a lot less than England."
She then told Ms Sturgeon: "You keep talking about the cost of university education being free. Do you know what is the cost of university education? The cost is 152,000 college places, the cost is the fact that poor people in Scotland are half as likely to be able to get into university as south of the border."
In a testy exchange during the cross-examination, Ms Davidson accused Ms Dugdale of weakness in her support of the Union by giving her MSPs free rein to back independence. The Labour leader replied that she did "not need to sit in a tank and wave the Union Jack" – a reference to the Scottish Conservative's swashbuckling election publicity stunt last year – to demonstrate her support for the UK.
Later Ms Davidson accused the SNP leader of failing to respect the result of 2014's "once in a generation" referendum. Ms Sturgeon said there would not be another referendum if there was not the demand it and questioned why Ms Davidson "fears public opinion".
"What right would anyone have to rule out another referendum, because the future of this country should always be in the hands of the people of Scotland." The live debate, which was hosted by STV political editor
Bernard Ponsonby in front of an audience at the Assembly Rooms in Edinburgh, kicked off with the parties setting out their positions on tax – a key election battleground ahead of the transfer of new tax and welfare powers to Holyrood next year.
Ms Sturgeon said she was using the powers by not passing on the Conservative tax cut for the richest, while protecting those who on lower incomes.
Ms Dugdale, who backs a 1p tax rise for all apart from a 5p hike for the top earners, said Ms Sturgeon's plans to raise £2bn through income and local tax is not enough. "Actually you need to raise double that to stop the cuts.
If she is not prepared to raise that amount of money she cannot feasibly say she is against austerity," she added.
Mr Rennie, who wants to raise taxes across all bands by 1p, said Ms Sturgeon had "belly-ached" about more powers but was "frozen to the spot" now she had them. He said his Liberal Democrats would use the extra revenue to make Scottish education "the best in the world again". Scots paying higher taxes than the rest of the UK, Ms Davidson said, would jeopardise Scotland's economic competitiveness.
Greens co-convener Mr Harvie said his party, who announced higher taxes for the better off including a 60p top rate, said his party would invest in public services. He added: "The Scottish Green Party doesn't believe we can do that with a status quo tax policy."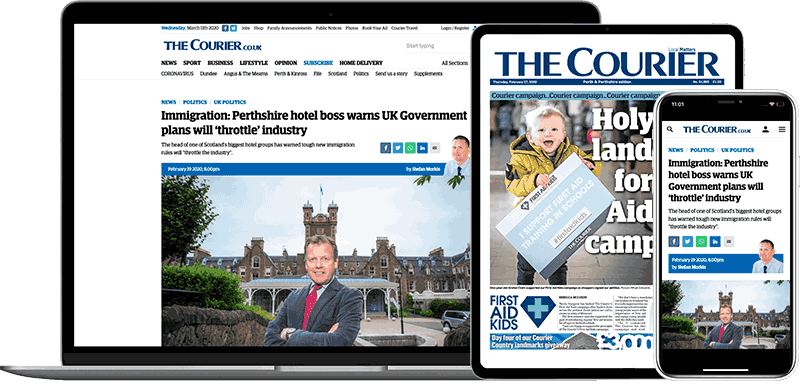 Help support quality local journalism … become a digital subscriber to The Courier
For as little as £5.99 a month you can access all of our content, including Premium articles.
Subscribe