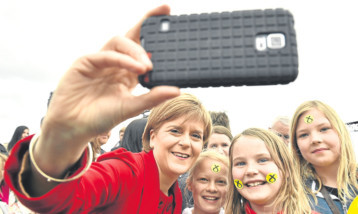 Nicola Sturgeon has revealed she often suffers from aching cheeks because of the number of "selfies" she poses for.
The First Minister has made a habit of taking the photographs as she is often highly in demand with the public to the extent that she has now become a technological whizz.
Asked in a newspaper interview how many selfies she has been in this year, the SNP leader said: "It will be in the hundreds of thousands, I think.
"I know how every make of phone works. It really deeply troubles me when I come across a phone I don't know how to work in selfie mode. At night, very, very often the sorest part of my body is my cheekbones."
Ms Sturgeon also joked about a headline which branded her "The most dangerous woman in Britain" after the general election TV debates.
She said: "It's the nicest thing the Daily Mail has said about me. I still trade off it. It did my street cred no end of good." "I owe the Daily Mail big time for that."
And she talked of being "desperately upset" about Charles Kennedy's death. The two got to know each other in Australia during a political exchange 20 years ago.