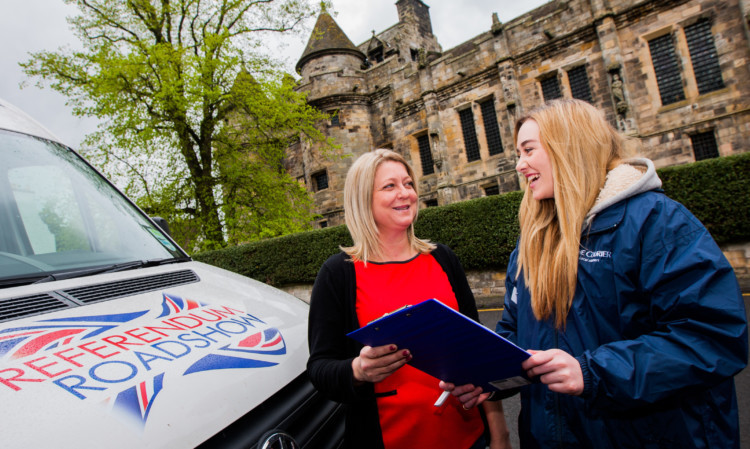 Heated debate on the Scottish independence referendum hit the historic streets of Falkland during The Courier's roadshow.
Politicians from both sides of the debate also joined Wednesday's proceedings, with Mid Scotland Fife Labour MSP Jayne Baxter and Howe of Fife SNP Fife councillor David MacDiarmid turning out to engage with the public and answer questions outside Falkland Palace.
Yes supporters edged it by 57.14% to 42.75% in our ping-pong ball poll.
Retired Kirkcaldy solicitor David Wood, 76, from Lathrisk, near Falkland, has been an SNP supporter since his first day at Edinburgh University. Not surprisingly, he will be voting Yes on September 18.
He said: "We've had a raw deal from Westminster. Ever since devolution we've proved we can manage our own affairs. I also believe the British economy is doomed unless it can solve some fundamental problems.
"London is overheating and I think there could be more violence on the streets there unless more opportunities are created for young people."
But Fife Jayne Baxter said Britain was 'Better Together'. She said: "It's really important that we engage with people. It's great that The Courier is doing this. People have a lot of questions about independence but often there are no answers.
"Independence would be a huge leap of faith. I think most people will recognise the benefits of being part of the bigger United Kingdon unit. There's no guarantee that an independent Scotland would be a socialist utopia!"
Councillor MacDiarmid said Yes campaigners were picking up a lot of support on the streets of Fife. Engaging with debate with a passing 'No vote' pensioner, Mr MacDiarmid said: "Project Fear from Better Together has a lot to answer for. The Yes campaign is a positive grassroots developed campaign.
"Scotland would be so much better off if it was in charge of its own affairs. Do we really want posh Tories in London telling us how to do things?"
The Courier's referendum roadshow moved on to the nearby village of Strathmiglo in the afternoon, where No took 53% of the ball vote, and Yes 47%.
Follow our roadshows at www.thecourier.co.uk/indy-roadshow.