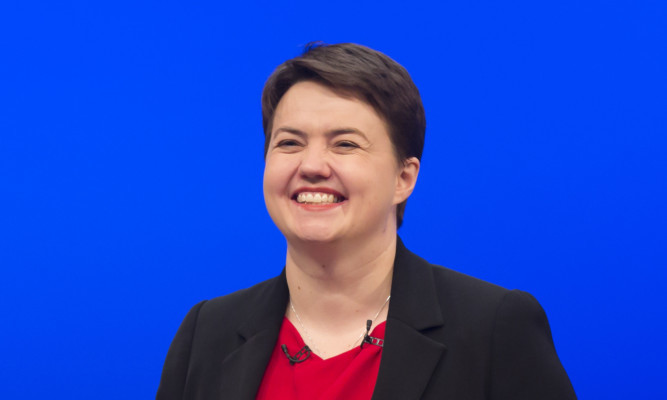 Conservative leader Ruth Davidson has pledged to unveil a manifesto "bursting with ideas" following internal party allegations that she has not presented any detailed policies.
Jim Terras, chairman of the Selkirk Conservative and Unionist Club, has called for "policies or a detailed manifesto" and said Ms Davidson's performance in the first televised election debate was "very poor" in a steady stream of criticism on social media.
Mr Terras has also pointed to several demands for detail on the ConservativeHome website, in response to Ms Davidson's article defending the UK Government's tax decisions and criticising those of her Scottish opponents.
It follows a leak of an internal party document which claimed the manifesto will not present the Conservative plan for Scotland, but will outline how the party has changed and "what we will pressure the Scottish Government on in the next parliament".
Ms Davidson rebuffed claims that her party has been silent on policy, insisting she has pledged to build 100,000 new homes, hand colleges £60 million, reform education from pre-school to post-secondary, reform Police Scotland and the courts, address the "target culture" in the NHS and invest in roads and digital infrastructure.
She told the Press Association: "Maybe Jim doesn't read the papers but I can't say that we haven't been putting a lot of ideas out there.
"We will have a full manifesto bursting with ideas. We have been the only people holding the Government to account on some of this stuff for months."
Ms Davidson said she had not seen the leaked paper until it was published in the Daily Record, but said its central claim that "the manifesto will not be presented as Our Plan for Scotland" is "clearly false".
She added: "A manifesto is all about policies and ideas, and that is exactly what ours is going to be as it has been at every other election."
The Edinburgh Central candidate visited Little Learners Nursery in the south of the city to support Save the Children's Read On, Get On campaign and outline her education policies.
"We have seen literacy and numeracy fall in Scotland," she said.
"We also see a really big gap in young people from poorer communities and the better off and that gap grows as they progress through school, so it's something that you need to address.
"We need to empower teachers more within our schools, so we want to have greater decision-making power for our headteachers and school leaders, such as hiring of staff, budgets and allocations.
"Of the money that is designated to schools by the Scottish Government, 20% never reaches it to the school gates. It is spent and kept by councils.
"Some of it is spent very well but we think some of it would be better spent by teachers."
She called for a significant proportion of the £650 million coming to Scotland from the Chancellor's Budget to be spent on schools.
Ms Davidson also highlighted the opposition of the education sector to the Scottish Government's plan to appoint a "named person" from health and social care to monitor the wellbeing of every child in Scotland.
She said the Educational Institute of Scotland, the Scottish Parent Teacher Council and the Association of Heads and Deputy Heads have raised concerns about the scheme, as have the Association of Scottish Social Workers, Police Scotland, the Law Society of Scotland and senior social workers.
In her article for ConservativeHome, Ms Davidson said "middle earners in Scotland will be forced to pay £3,000 more in tax than people in England over the next five years" under the SNP's income tax plans.
"By the turn of the decade, the difference in take home pay for someone touching £50,000 will be £800 a year," she said.
"And, secondly, the additional rate may go up too."
She added: "Our message in this campaign will be that we will fight to keep people's taxes as low as possible, not just because workers deserve to keep more of their own money – and they do – but also because it is good for Scotland.
"I want to deliver the kind of balanced parliament that will make better decisions for all of us."
She said a Labour opposition will leave Scotland "on a high tax escalator" with "a high tax first minister being told by a high tax opposition leader that taxes aren't high enough".
She added: "It is only the Scottish Conservatives which can stop that escalator in its tracks."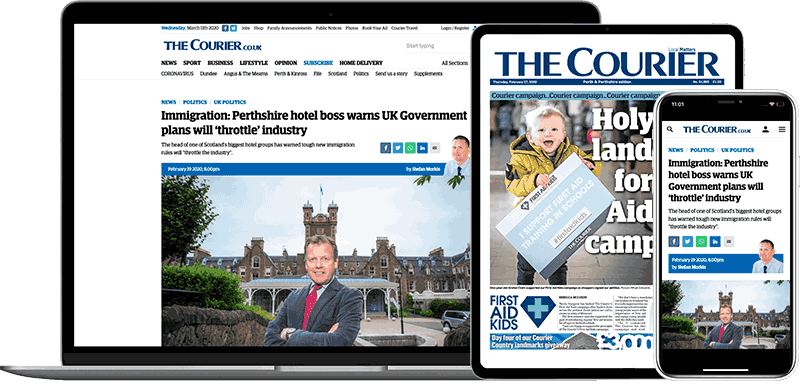 Help support quality local journalism … become a digital subscriber to The Courier
For as little as £5.99 a month you can access all of our content, including Premium articles.
Subscribe