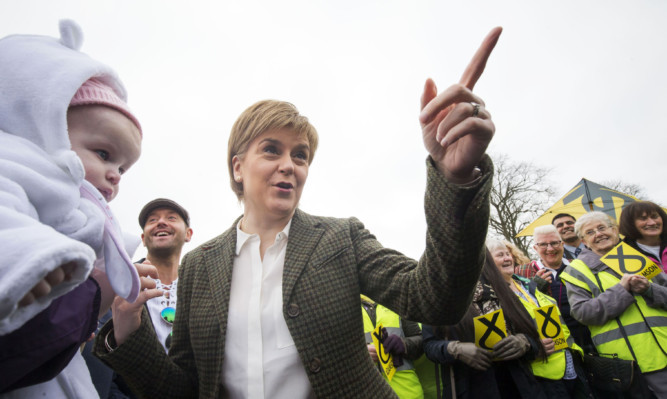 The SNP will put young people at the "cutting edge" of the economy by creating thousands more apprenticeships in high-skill industries such as technology and engineering, Nicola Sturgeon has pledged.
The First Minister and SNP leader focused on skills as the Holyrood election campaign continued, with Liberal Democrat leader Willie Rennie also setting out how his party would tackle Scotland's skills gap.
Ms Sturgeon has already promised her party will up the number of apprenticeship training places from 25,000 a year to 30,000 a year by 2020 if re-elected on May 5.
Now, the SNP has vowed those additional 5,000 places will be in "high-level science, technology and engineering courses that deliver the skills employers need and the high-wage jobs our young people deserve".
The First Minister raised the issue as she visited communities near the Dalzell Steelwork in Motherwell, North Lanarkshire, days after a deal was reached to save it and another mothballed steel plant in Clydebridge, South Lanarkshire.
A "back to back" agreement was recently confirmed which involves the Scottish Government buying the plants from Tata Steel and immediately selling them on to metal firm Liberty House.
Ms Sturgeon said: "Giving our young people the skills they need to be at the cutting edge of our economy and our jobs market is vital for their future and for the future of our economy.
"That means learning from our traditional industries, expanding support for science, maths, engineering and vocational training, building greater connections between industry, schools and colleges, and ensuring our young people are able to see the huge opportunities ahead of them."
The First Minister added: "A re-elected SNP government will expand the number of apprenticeships to 30,000 every year by the end of Parliament, with 5,000 additional places focused on highly-skilled employment and growing industries.
"In the past, too many of our communities and our young people were let down by the Tories and neglected by Labour.
"An SNP government will make sure we give all of our young people the best possible start to their working lives by protecting jobs, creating opportunities and investing in skills and education for all."
Mr Rennie highlighted a report from the UK Commission for Employment and Skills which stated a fifth of employers in Scotland cannot get candidates with the skills they need.
The Liberal Democrat leader, who was campaigning with Aberdeenshire East candidate Christine Jardine, claimed Aberdeen and Aberdeenshire had lost 20,000 college places since 2008.
The Lib Dems plan to invest extra cash in colleges as part of a plan to raise £475 million a year extra funding for education by increasing the basic income tax rate in Scotland by 1p.
Mr Rennie, who was visiting Inverurie, argued: "To build a sustainable economy for that future where everyone contributes to the economic well-being of the nation, we need a plan that extends opportunity for everyone.
"The best route out of poverty is work and the best route into work is education. We know the best way to build a sustainable, vibrant economy is to deploy the talents of all our people.
"At the moment too many people are being left behind. Businesses are crying out for skilled workers but Scotland has slipped down the international education league table and 152,000 college places have been lost on the SNP's watch.
"More than 20,000 of these were places here in the north-east. Tens of thousands of people in Aberdeen and Aberdeenshire are not getting the opportunities they deserve on the SNP's watch. That will not help Scotland be the best again.
"That is why the Liberal Democrat plans for a massive £475 million a year investment in our nurseries, schools and colleges are so important. This investment will help close the skills gap and ensure businesses can get the staff they need."