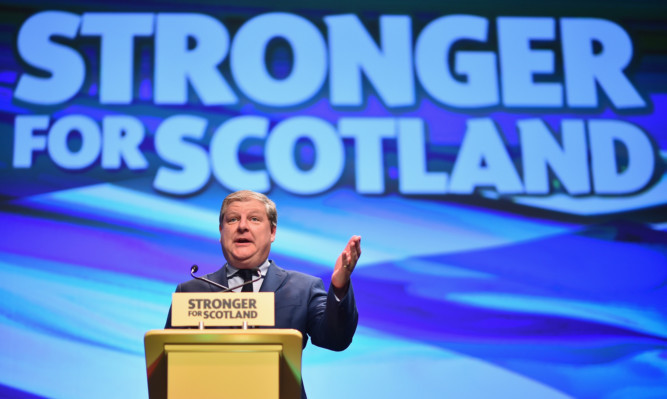 Independence may not be won in future without a better effort to convince English voters living in Scotland that they would not lose out, the 2014 "yes" campaign director warned.
Scottish National Party MP Angus Robertson said the failure to overcome the fear factor of non-Scot residents was one of the main lessons to be drawn from last year's lost referendum.
If another poll was called, they could prove crucial to ensuring victory, the party's Westminster leader told activists at its annual conference in Aberdeen.
And he said faster work would be needed to enthuse teenagers, suggesting a slow start in the last campaign robbed the pro-independence cause of the chance they could go on to win over grandparents.
Mr Robertson delivered his analysis of some of the reasons behind the failure of the referendum campaign to secure a majority in a discussion on the fringe of the conference hosted by The Times.
"For me there are a couple of things that in hindsight I would have approached differently," he conceded – including the approach to the around half a million English, Welsh and Northern Irish residents who had a vote.
"I was repeatedly surprised by people I knew – my constituency has two large military bases – service families from down south saying they were voting 'yes'," he said.
"I would recognise now that a lot of people were being polite and were not persuaded.
"There was not a vision communicated effectively enough to those voters that Scottish independence is about political decision making, it is not about social union which we value and share in Scotland.
"I would definitely wish for us, should another referendum come along, to have a much more effective way of communicating that the future of an independent Scotland is there for everybody, regardless of people's identity, regardless of their background and regardless of their future commitment to a shared cultural, social union that we share and value here.
"Many people felt that they were going to lose something and that is a very, very powerful impression to have to communicate one's way through."
He said his expectation that younger voters would swing the opinion of older generations had also been confounded.
"What I underestimated was that if you are 16 years old your memory of political debate and discussion is quite recent," he told the audience.
"I definitely underestimated the fact that it would take as long as it did for younger voters to get to where they got to.
"And it was too short a period then for that inter-generational effect to have an impact.
"That for me is one of the largest lessons."
"My experience speaking in schools, especially at the beginning of the process, was that there was a lack of reference points for younger voters."
It would be vital, in any subsequent vote, to harness the "powers of younger voters to persuade grandparents and grandmothers that it was not just about an older generation but about future generations and voting for the future of the country".
The Moray MP – who was born in London – said there should only be another referendum if victory appeared assured – pointing to a lack of progress since Quebec voted 'no' for the second time within a generation in 1995.
But he suggested that the momentum remained with the cause, not least because the UK Government was "doing its level best" to let down those who reluctantly voted for the status quo.
"I have met a large number of people who said they regretted voting 'no' last year. I've yet to find anybody who regretted voting 'yes'," he said.
"People were on a journey and I think that journey is continuing.
"There is a segment of the 'no' electorate that wanted to give things another chance in the hope that things would improve and I think are open to Scottish independence."