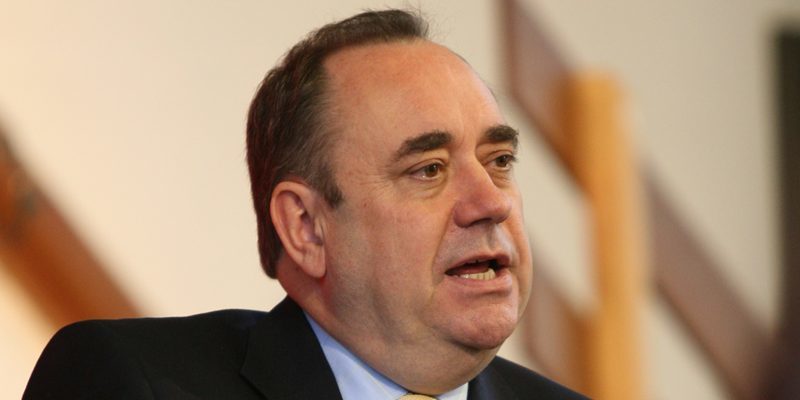 Alex Salmond has been criticised for comparing a BBC staff member who banned him from appearing as a rugby pundit to a Nazi leader.
Scottish Labour demanded the First Minister apologise for the "ugly smear" which came amid mounting tension between the broadcaster and the SNP.
Mr Salmond had been due to appear on the BBC's coverage of the Six Nations clash between Scotland and England on Saturday afternoon to give his predictions for the game, but the appearance was cancelled at the last minute by BBC political adviser Ric Bailey because of "heightened tensions" over the independence referendum.
The SNP leader reacted angrily to the ban, claiming it raised questions about the editorial independence of the broadcaster and how it would cover the referendum.
He also branded Mr Bailey a "Gauleiter" a name given to regional leaders under Hitler which has come to mean an overbearing bureaucrat.
"Ric Bailey the political Gauleiter we should call him now intervened to say this shouldn't happen and really he's … just totally, utterly lost the plot," the leader said.
The usage of the term 'Gauleiter' was condemned by Labour's external affairs spokeswoman Patricia Ferguson, who said: "Alex Salmond's hysteria over not appearing on a rugby show is embarrassing to most Scots. People want the First Minister to get behind the team, not get on television.
"What is totally unacceptable, however, is for the First Minister to accuse journalists of occupying the post of a Nazi district leader. That is an ugly smear."
Scottish Tory leader Ruth Davidson said: "It is a completely inappropriate outburst from a man supposed to be running Scotland and symptomatic of the SNP's attack mode where they try to destroy anyone with whom they disagree."
But a spokesman for Mr Salmond said he had intended the term in its modern usage as an overbearing bureaucrat. He also pointed out that the First Minister had not complained after being compared to Zimbabwe dictator Robert Mugabe in a recent BBC interview with Jeremy Paxman.
A spokesman for the BBC said it had an obligation to be impartial.