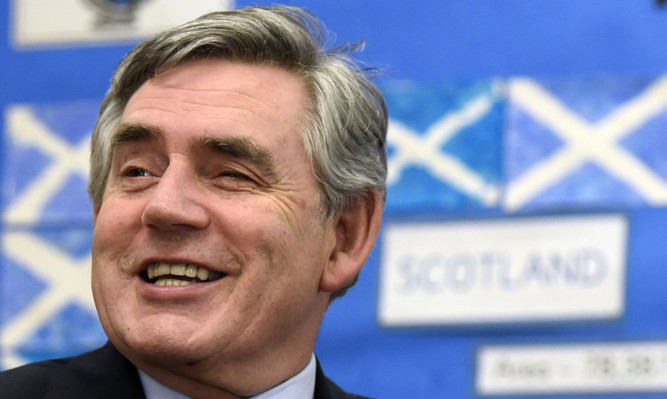 The master strategist was wrong-footed by a powerful late intervention of the former Labour prime minister and the vow of more powers for Scotland, within the UK.
"At the last minute an offer was made," Mr Salmond recalled. "I had discounted it on the basis of the people who had made the offer Cameron, Clegg, Milliband had no credibility.
"An offer without credibility isn't worth much at all.
"The problem was Gordon Brown, I didn't anticipate him coming in." Mr Salmond assumed he would enter the fray at some point, but not as the main man to save the No campaign from going under.
"I didn't think he'd take over the campaign. And for one reason or another and a reason I've not been able to quite understand Gordon has credibility.
"Therefore, a vow from Gordon was more influential than a pledge from Clegg.
"If that had been the next weekend, it would have been too late for them. We would have had momentum and it would have been difficult for them to stitch it together. But 10 days before was an issue."
* Read the second instalment of Alex Salmond's interview only in Friday's Courier
With hindsight, Mr Salmond concedes that this is what the campaign turned on.
"You can win a battle, but lose a war. And the nature of what they did allowed them to win the referendum, but they are certainly going to lose the pace because of the offer they made. They are now in a position where either they redeem the offer this Devo to the Max or alternatively pay the consequences. Right now, they are paying the consequences. You can take a quick trick but still lose the game and I think they took a quick trick. Unless of course they redeem what they promise, but there doesn't seem to be much sign of that right now.
"I knew The Vow was an issue, it gave them a momentum.
"The Vow was decisive. The fact that someone with credibility was delivering it was an added bonus. It was designed for the 10 per cent of people who were moving to Yes the swing voters who could be persuaded that they could still get progress for Scotland without voting Yes.
"It's these people, incidentally, who are now pretty fed up with the Westminster parties. They are not satisfied that what they were promised is about to be delivered or alternatively, want to make sure it will be. That's the dynamic."