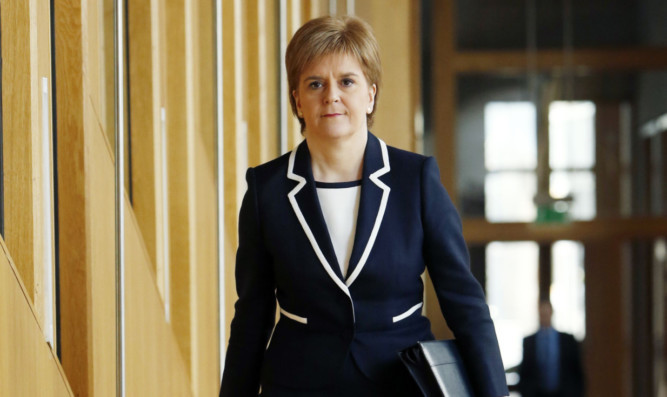 I met three bright young women from Irvine in Ayrshire last week.
They were students at the local academy and were spending the day shadowing the parliamentary office of my colleague, Philippa Whitford MP. They qualified for the opportunity by writing essays about International Women's Day.
Encouragingly, they told me that their studies had not only made them more aware of the many issues around gender equality but also much more interested in potential careers in public service.
International Women's Day is tomorrow. It celebrates the achievements of women across all of the fields of human endeavor. In addition, this year carries a theme of gathering pledges from influence leaders , as well as ordinary citizens the world over, detailing what they will personally do to accelerate the timescale for achieving gender parity.
It has been estimated that, at the current rate of progress, totally ending pay and economic disparity will take some 117 years! The aim of these pledges is to accelerate that timescale.
Using the full range of social media options now available, the campaign is likely to have a big impact. I have pledged to promote gender parity in leadership positions, as indeed have many (mostly male) opinion leaders from across politics and industry. Anyone can take part online at #PledgeForParity.
The first recorded Women's Day was held on February 28 1909 in New York and was organised by American socialists in remembrance of a celebrated garment workers' strike. By the following year the movement had spread to Europe and the second Socialist International in Denmark proposed the establishment of an annual International Women's Day.
The 100 delegates from 17 countries agreed with the idea as a strategy to promote equal rights and, specifically, the vote for women. They also protested against employment sex discrimination.
Although there were some women-led strikes, marches, and other protests in the next few years, none of them took place on March 8.
However, in 1914 International Women's Day was held for the first time on that day, possibly because it happened to fall on a Sunday, when it was easier to get a turnout at rallies. Now it is the chosen day in all countries.
In London in 1914 there was a protest march from Bow to Trafalgar Square. Renowned suffragette Sylvia Pankhurst was arrested in front of Charing Cross station on her way to speak in Trafalgar Square.
In 1917 in Russia International Women's Day became a revolutionary instrument when women went on strike for "Bread and Peace" demanding the end of the First World War, an end to food shortages, and the fall of the czar.
Leon Trotsky later wrote: "We did not imagine that this 'Women's Day' would inaugurate the revolution. Revolutionary actions were foreseen but without date. But in morning, despite the orders to the contrary, textile workers left their work in several factories and sent delegates to ask for support of the strike which led to mass strike… all went out into the streets."
From its official adoption in Russia following the Soviet Revolution, International Women's Day was predominantly celebrated in communist and socialist countries. In the west International Women's Day wasn't generally observed as a popular event until after 1977, when the United Nations General Assembly invited member states to proclaim March 8 as the UN Day for women's rights and world peace.
Over this century of celebration and agitation women have made giant strides. The pay gap remains stubbornly wide but most advanced countries have embraced, at least in principle, the cause of gender equality. The vast majority of world leaders are still men but Scotland has a hugely successful young woman leader and it is more than likely that before this year is out a woman shall be chosen to lead the most powerful country on earth.
Not all societies have made this rate of progress. In many countries women still play a subservient role. Indeed, female physical mutilation is still a depressing factor in some societies. In warzones women and children are the key casualties of conflict, and yet there is a growing awareness that the influence of women may also hold the key to peace.
As the movement for further change across all countries is clear, the ambition for equality, while yet unfulfilled, burns ever more strongly. This will be demonstrated once again tomorrow and let us be the generation which makes it happen.