Scotland's university and colleges minister has said the sector has been "badly bruised" by Covid-19 as he praised its response to the pandemic.
Richard Lochhead, the further and higher education minister, said colleges will be "even more pivotal" during the economic recovery from coronavirus "as we emerge badly bruised economically from the pandemic in search of stability and growth".
Guidance will also be published this week, the minister said, on how to keep staff and students safe during a phased return to normality in the new term.
He added that the recovery of the college sector in Scotland from Covid-19 will have a "huge influence" on how the country as a whole responds.
Writing in The Herald, Mr Lochhead said: "The flexibility and professionalism colleges have shown in the past 100 days has demonstrated they are more than well equipped to provide not only a safe working environment for everyone, but to support students in their studies with the highest quality of learning and teaching.
"I have been a proud further and higher education minister as I watched our network react so brilliantly to the Covid-19 crisis, and would like to thank them for that collective effort.
"I am of no doubt, whatever, they will continue to rise to the ongoing challenges of not only recovering from the effects of this once-in-a-lifetime situation but continuing to provide the productive pipeline of the talent we need to prosper as an economy."
The minister praised the switch to distance learning seen in colleges across the country, as well as the support given to the NHS and local communities from the sector.
He said: "How Scotland's colleges switched incredibly swiftly to digital teaching and assessment was a brilliant shop window of their adaptive skills, as we all moved into new ways of operating and thinking.
"Their students and staff then rose just as impressively to the complex everyday challenges presented by Covid-19, by offering their time, skills and much-needed materials such as personal protective equipment to both the NHS, and to some of the most vulnerable members of their own communities, to first react and now recover, via social care and community organisations.
"Their skills also came to the fore by addressing some complex engineering and other disciplines brought into play, for various sectors to react to the crisis."
Mr Lochhead added: "How our college sector emerges now from Covid-19 will have a huge influence on how we do as a country."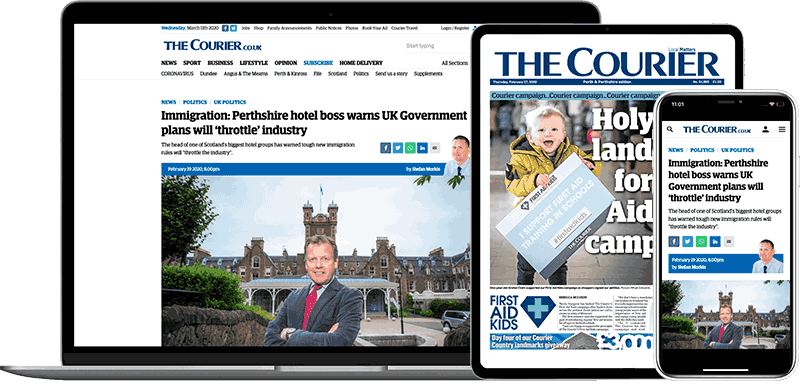 Help support quality local journalism … become a digital subscriber to The Courier
For as little as £5.99 a month you can access all of our content, including Premium articles.
Subscribe