Different regulations on goods between Scotland and the rest of the UK will cost consumers, the Scottish Secretary has warned.
Alister Jack has urged the Scottish Government to work with the UK Government on the establishment of the new internal market.
In the past week, a row has developed between Holyrood and Westminster over what the Scottish Government has called a "power grab" using the new Internal Market Bill.
Writing in the Daily Express, Mr Jack said: "For me, it's fantastic these powers will no longer be exercised in Brussels.
"But it brings a risk that different standards, rules and regulations set in Scotland, England, Wales and Northern Ireland could emerge, creating barriers to trade and extra costs for business and consumers.
"That's in no-one's interests."
He added: "It makes no sense to burden bakers in Lanarkshire with having to put different labels on their bread to sell it in Lancashire.
"It wouldn't be fair on consumers because the costs would be passed on to them.
"So we want to work with the devolved administrations to agree common frameworks covering key policy areas returning from Brussels."
Mr Jack said a "backstop" measure will be enshrined in law, meaning if an agreement cannot be reached with devolved administrations over standards, then they will have to be "respected and accepted".
Along with ensuring trade within the four nations, Mr Jack said a strong internal market will increase the attraction for other countries to strike trade deals with the UK.
He said: "Our seamless UK market is an essential selling point – it makes us a more attractive place for global partners to do business and invest."
Cabinet Office minister Michael Gove has said more than 100 new powers will be coming to Scotland after the Brexit transition period ends – an assertion branded a "lie" by Scottish Constitutional Relations Secretary Mike Russell.
Mr Russell said some of the powers the UK Government claims are being given to Scotland after leaving the EU are in areas it is already responsible for, such as animal welfare.
Last week, the Scottish Government said it will attempt to defeat a legislative consent motion (LCM) in Holyrood on the new Internal Market Bill.
An LCM is not binding and would not stop the UK Government from moving forward with the legislation – but it would signal opposition from the Scottish Government.
Previously, all three devolved nations voted against legislative consent for the Brexit deal, but the Bill was still passed in Westminster.
Parliamentary business minister Graeme Dey said: "It is the UK Government that is imposing costs on consumers and the Scottish economy by pressing ahead with its disastrous plan to leave the EU single market of 450 million people in less than six months' time.
"There is now the very real risk of a no-deal Brexit and these proposals will compound the hit to business in Scotland by threatening the world-famous quality of Scottish produce – on which thousands of jobs depend – in a race to the bottom.
"We have been working in good faith with the UK Government for three years to agree common frameworks – which would avoid situations such as on food labelling that the UK Government spuriously claims to be trying to address with these unnecessary internal market proposals.
"The UK Government's new scheme would require regulatory standards in one part of the UK to be automatically accepted in the others, regardless of whether those standards are lower than those the Scottish Parliament might find acceptable."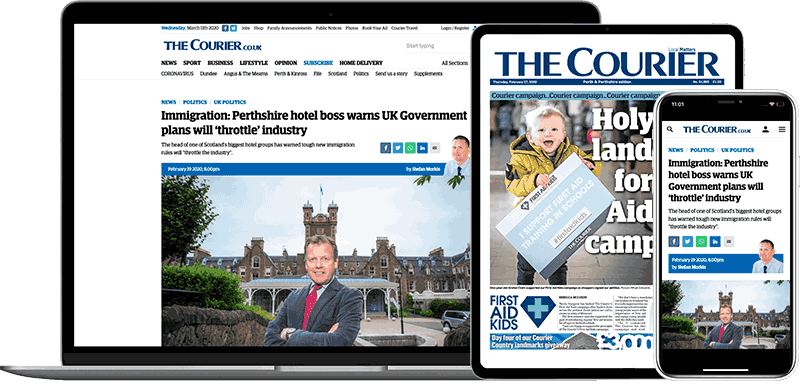 Help support quality local journalism … become a digital subscriber to The Courier
For as little as £5.99 a month you can access all of our content, including Premium articles.
Subscribe