A total of 23 people have tested positive for coronavirus in Scotland in the past day, with First Minister Nicola Sturgeon warning an outbreak in Aberdeen will likely grow.
Nicola Sturgeon announced the latest figures at the Scottish Government's coronavirus briefing in Edinburgh on Tuesday.
While there have been no Covid-19 deaths for 19 days, the total number of cases continues to rise and now stands at 18,717, with 2,491 total fatalities.
The First Minister told the briefing that 120 contacts have been traced from the Aberdeen cluster, which started at The Hawthorn Bar.
A total of 27 cases were confirmed as a result of the outbreak, although the First Minister said she expects that will rise.
She said: "Investigations are ongoing and we will provide more details as and when they become available."
Ms Sturgeon added the outbreak shows the virus is still active in Scotland.
She said self-isolation is "non-negotiable" if someone is found to be a close contact, adding that even if a test comes back negative the person will still need to self-isolate for two weeks.
Ms Sturgeon told employers that testing staff who are found to be close contacts of a positive case is not an alternative to self-isolation.
She warned the Scottish Government could consider placing a legal obligation on hospitality venues to gather contact information from customers.
When asked about a possible local lockdown, the First Minister said she will be in discussions on Tuesday and Wednesday about further steps that could be taken but added the Scottish Government will act in a way that is "not disproportionate or overreacting".
She said: "All of these things have to be under review on an ongoing basis because we're dealing with this infectious virus and it's a tactical battle we're fighting with this virus so we need to always consider the steps we need to take to stay ahead of it or get it back in retreat if we ever think its running out control."
She added if any decisions are taken, the Scottish Government will communicate them "as clearly, as coherently and as rationally as we possibly can".
The First Minister also announced a Scottish version of an online survey from the London School of Hygiene and Tropical Medicine, which is hoped to give a more timely overview of the virus.
Currently, very few people are involved in the surveys from Scotland, the First Minister said, meaning the modelling is less useful to the Scottish Government.
About 3,000 people will be needed to take part in the survey, Ms Sturgeon told the briefing, as she urged people to come forward.
She said: "By volunteering, you will be helping us to improve our understanding of the epidemic and to ensure that we can identify and respond quickly to any changes that threaten the progress we've made."
On the day that exam results were published, the First Minister also addressed young people.
"Whatever your results are, you should all be incredibly proud of the way you've coped with the challenges in the last few months," she said.
"At a moment's notice you had to adapt to new forms of learning, your contact with friends and family was restricted, many of you missed out on a proper end to your final year, you didn't get to sit exams.
"Of course, you're now having to think about your future in a time of real economic uncertainty.
"All of that has been really tough and we don't underestimate how tough that has been, and I know that for some of you there will be difficult decisions that lie ahead."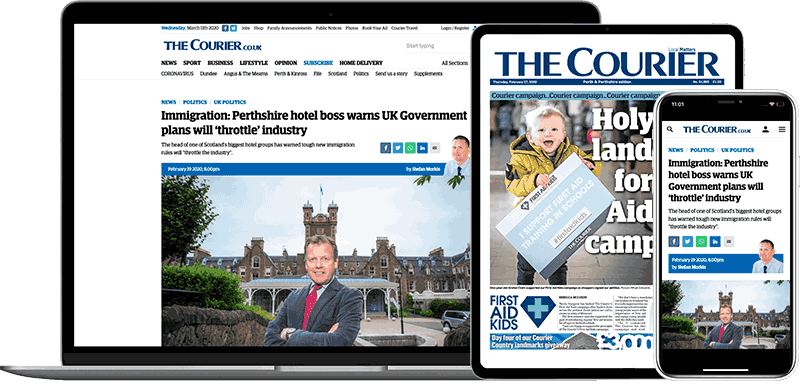 Help support quality local journalism … become a digital subscriber to The Courier
For as little as £5.99 a month you can access all of our content, including Premium articles.
Subscribe