A number of new coronavirus clusters in Scotland should not cause undue alarm, Nicola Sturgeon said, as she revealed the R number has potentially risen above one.
The First Minister said clusters have emerged in Glasgow and Orkney in addition to the one in Aberdeen which led to a local lockdown.
A household cluster in Peterhead is also being investigated and has led to the closure of a primary school.
Ms Sturgeon told the Scottish Government's regular coronavirus briefing that provisional figures indicate the upper estimate for the R number – the average number of people infected by each person with Covid-19 – last week could have been as high as 1.3.
She added: "When the prevalence across the country is low the R number will be disproportionately affected by outbreaks on the scale of the one in Aberdeen."
In Aberdeen, 182 cases of coronavirus have been linked to the outbreak and 961 contacts have been identified.
A cluster of eight cases was identified in Glasgow on Wednesday and another in Orkney where potential links to the Aberdeen outbreak are being investigated.
Ms Sturgeon said "clusters of this kind, I'm afraid to say, are inevitable", adding: "We should become more used to hearing about several different clusters because the virus hasn't gone away.
"While we shouldn't be unduly alarmed, it is equally important that we're not in any way complacent."
She said there were 47 new confirmed coronavirus cases in Scotland in the past 24 hours, taking the total to 19,173.
Of these, 26 are in the Grampian health board area, 10 are in NHS Greater Glasgow and Clyde and three are in NHS Orkney.
No new deaths of people who tested positive for coronavirus in the past 28 days were reported, meaning the total remains at 2,491.
Ms Sturgeon said there are 258 people in hospital with confirmed or suspected Covid-19, a decrease of seven in 24 hours.
Of these patients, three were in intensive care, no change from Wednesday.
Ms Sturgeon also announced safety equipment manufacturer Alpha Solway has been awarded a £53 million contract to supply personal protective equipment (PPE) for NHS Scotland.
The contract will provide 232 million surgical masks, six million respirator masks and two million visors.
She added: "This order, that will support 200 new jobs in Dumfries, is expected to meet the needs of our health and social care sector in relation to surgical masks and visors between now and next summer.
"It will also meet most of the sector's requirements for respirator masks."
She added: "This contract is a really important step in ensuring that Scotland has secure supplies of PPE for the foreseeable future."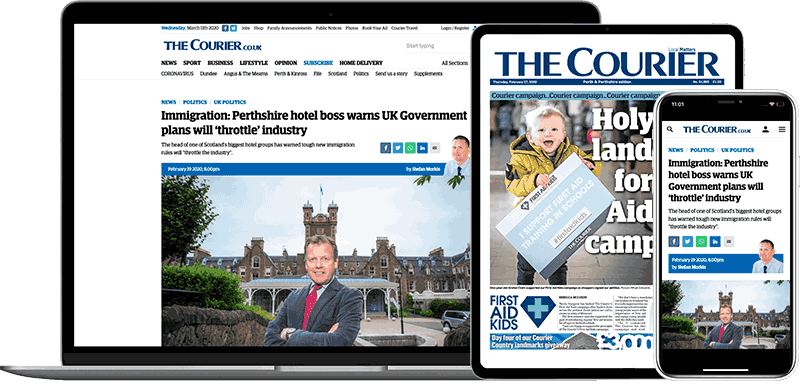 Help support quality local journalism … become a digital subscriber to The Courier
For as little as £5.99 a month you can access all of our content, including Premium articles.
Subscribe