Health Secretary Jeane Freeman will meet trade union representatives who are campaigning for NHS pay talks to be reopened.
The meeting with Unison members will take place after a series of demonstrations on Tuesday in support of the union's "pay up now" campaign.
Unison said workers have incurred extra costs as a result of the pandemic and need a pay rise.
Its campaign is calling for the three-year NHS pay deal to be renegotiated.
The union plans to hold a series of socially distanced demonstrations around Scotland on Tuesday.
Tam Waterson, chairman of Unison's health committee, said: "We're glad the Cabinet Secretary for Health has agreed to meet with our members, to listen to their concerns and hear why the Scottish Government must reopen the three-year pay deal.
"Our dedicated NHS staff have suffered real-term pay cuts over the last decade with significant extra costs over this pandemic."
He added: "This includes extra childcare costs because they are working extra shifts, extra transport costs because of restricted public transport, extra costs because they have being isolating from family or even extra laundry costs and buying personal PPE.
"These are just ordinary people thrust into extraordinary events and they deserve our support.
"It's time for the Scottish Government to do the right thing, to reopen pay talks and to pay up now."
A Scottish Government spokeswoman said: "This year the majority of NHS Scotland staff, including nurses, ancillary, administration and allied health professionals, have received a 2.95% pay rise as part of our three-year NHS Agenda for Change pay deal, which has delivered a minimum 9% pay increase for most staff, and over 27% for some still moving up their pay scale.
"This is in excess of the 2.8% uplift announced for NHS dentists and doctors in England and Scotland.
"As we are now in the last year of the three-year deal, we are working with NHS unions to agree a timetable to secure a new pay deal for 2021/22.
"The Health Secretary is meeting with Unison representatives on August 18, and has confirmed with them on more than one occasion that she has not ruled out reopening the final year of the current three-year pay deal, but is also keen to move into discussions for 2021/22.
"The Covid-19 pandemic is having an unprecedented impact on those working in our NHS, and we are hugely grateful for the extraordinary hard work, dedication, skill and commitment of all those working in NHS Scotland during this emergency."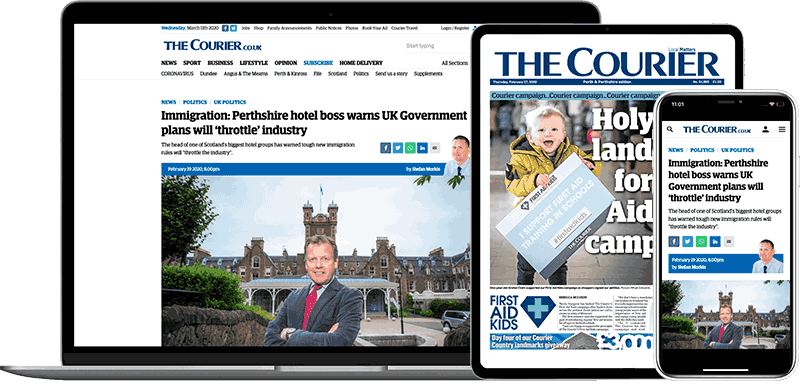 Help support quality local journalism … become a digital subscriber to The Courier
For as little as £5.99 a month you can access all of our content, including Premium articles.
Subscribe