Talks between the Scottish Government Health Secretary and a union campaigning for NHS workers to receive a pay rise have been hailed as "constructive".
Jeane Freeman met Unison members after their "pay up now" campaign for NHS Scotland staff.
The union has previously said workers have incurred extra costs as a result of the pandemic and need a pay rise.
A series of socially distanced demonstrations were held across Scotland on Tuesday reiterating calls for the three-year NHS pay deal to be renegotiated.
Tam Waterson, chairman of Unison Scotland's health committee, said: "Our members should be proud of themselves today for turning out in force to show the strength of feeling among the country's health workers.
"These are just ordinary people thrust into extraordinary circumstances who have gone above and beyond to keep us all safe.
"Their voices have not gone unheard and the health secretary said she has taken their concerns on board and is open to exploring all available options.
"Unison has been clear that we need to move quickly to reopen pay talks this year and ensure our dedicated NHS workers receive the recognition and pay they deserve."
Willie Duffy, Unison Scotland's head of health, said: "The dedication and commitment of our NHS workers during this pandemic have been nothing short of heroic.
"The least they deserve is our recognition and fair reward for everything they have done, and for everything they continue to do to keep us all safe."
Ms Freeman heard from a number of union members during the talks with many sharing stories of extra costs including for childcare, transport and even laundry.
She said: "As we are now in the last year of the three-year deal, we are working closely with NHS unions to agree a timetable to secure a new pay deal for 2021-22.
"Today's discussions with Unison members and hearing from staff working on the front line of the Covid-19 pandemic are a vital part of understanding the experience of staff, and reaching a deal that reflects and recognises their efforts.
"I have been repeatedly clear that we are considering several options for this which take into account the efforts of NHS staff during the pandemic, and have not ruled out reopening the final year of the current three-year pay deal as part of that 2021-22 deal.
"This year the majority of NHS Scotland staff, including nurses, ancillary, administration and allied health professionals, have received a 2.95% pay rise as part of our three-year NHS Agenda for Change pay deal, which has delivered a minimum 9% pay increase for most staff, and over 27% for some still moving up their pay scale.
"This is in excess of the 2.8% uplift announced for NHS dentists and doctors in England and Scotland.
"The Covid-19 pandemic is having an unprecedented impact on those working in our NHS, and we are hugely grateful for the extraordinary hard work, dedication, skill and commitment of all those working in NHS Scotland during this emergency."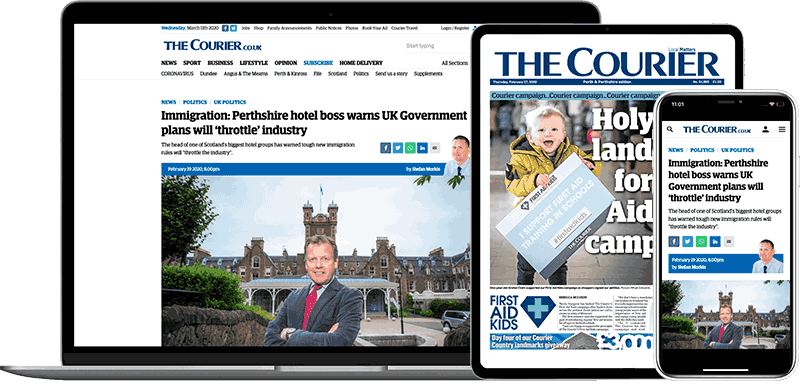 Help support quality local journalism … become a digital subscriber to The Courier
For as little as £5.99 a month you can access all of our content, including Premium articles.
Subscribe