More than 100 people have been told to self-isolate as a result of the Protect Scotland coronavirus contact tracing app, according to the First Minister.
Speaking at First Minister's Questions in the Scottish Parliament, Nicola Sturgeon said the technology had been downloaded by more than a million users.
She said the figure shows the app can be effective, and urged others to install it.
Ms Sturgeon said: "In the week since it was launched, more than one million people have downloaded the Protect Scotland app and I want to thank everyone that has done so.
"One million is already a big enough number for us to know that the app can make a difference. In fact, I can report that more than 100 people have been advised to isolate as a result of using it.
"I would encourage everyone that hasn't yet done so to download it.
"This is a simple – and it is simple – but it's also an important way in which we can fight Covid-19."
Protect Scotland became freely available to download on to smartphones on September 10.
It tells people if they have been in close contact with someone who later tested positive for coronavirus.
Giving the daily update on Covid-19 figures in Scotland, Ms Sturgeon said the Scottish Government is "considering carefully" whether further restrictions will have to be brought in for all or parts of the country to help tackle the virus.
She told Holyrood that the total number of positive Covid-19 cases reported on Wednesday was 290.
This represents 4% of people newly tested, with the total number of cases now at 23,573.
Of the new cases, 112 were in Greater Glasgow and Clyde, 52 in Lanarkshire and 47 in Lothian.
The remaining 79 were across nine other health board areas.
There are 52 people in hospital with coronavirus symptoms, an increase of one on the previous day.
Five people are in intensive care – one fewer than on Wednesday.
No new deaths have been registered of patients testing positive for coronavirus, meaning the total number of fatalities under this measurement remains at 2,501.
Ms Sturgeon said the R-number infection rate in Scotland is above one and could be as high as 1.4.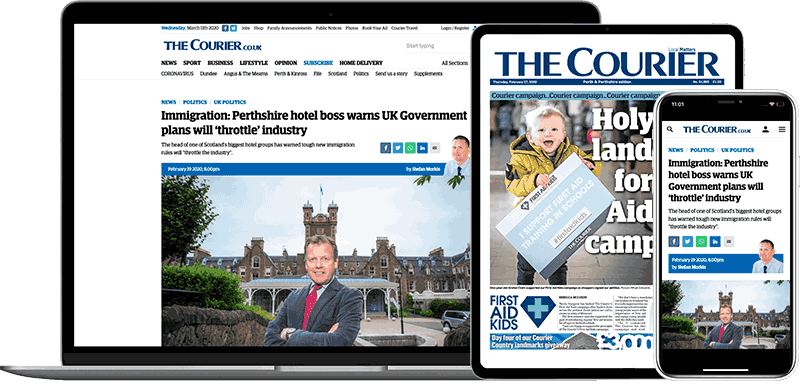 Help support quality local journalism … become a digital subscriber to The Courier
For as little as £5.99 a month you can access all of our content, including Premium articles.
Subscribe